So how did I come up with this concept? Gradually.
I knew that I didn't want a hard-core "theme" to the room because that's not my style. However, a subtle, reserved, not over-the-top theme would work just fine! So what made me think of the "Subtle Safari" theme? Well, Michael's mom (our kid's Grammie!) has made custom watercolors for every one of our kids. I absolutely LOVE the one that she made for Graham (you'll see it further down in the post!). The BLUE-GREY color that she used in the painting is what I matched for the wall color and the design she used had some jungle animals included and that marked the idea for a subtle safari theme!
The goal was to have some safari "elements " but nothing too attached to theme. I loved how it all turned out! It's masculine but still soft and inviting. It looks like a baby-boy's room but also has design elements that could be used in a living room or a regular bedroom. I think the hardest balance for me when decorating is the balance of textures. I have wood, rope, white painted wood, and a hit of bronze accents in his room. I'm no professional but I think it's a decent balance!
So enjoy his little room tour and just know…. this is NOT how it looks in our everyday life. There is normally a two-day old milk cup that got lost under the crib, an overflowing trash bin and stacks of laundry that gets worn again before it gets put away! :) I worked hard to make this room look Pinterest-worthy and it lasted for about 15 minutes.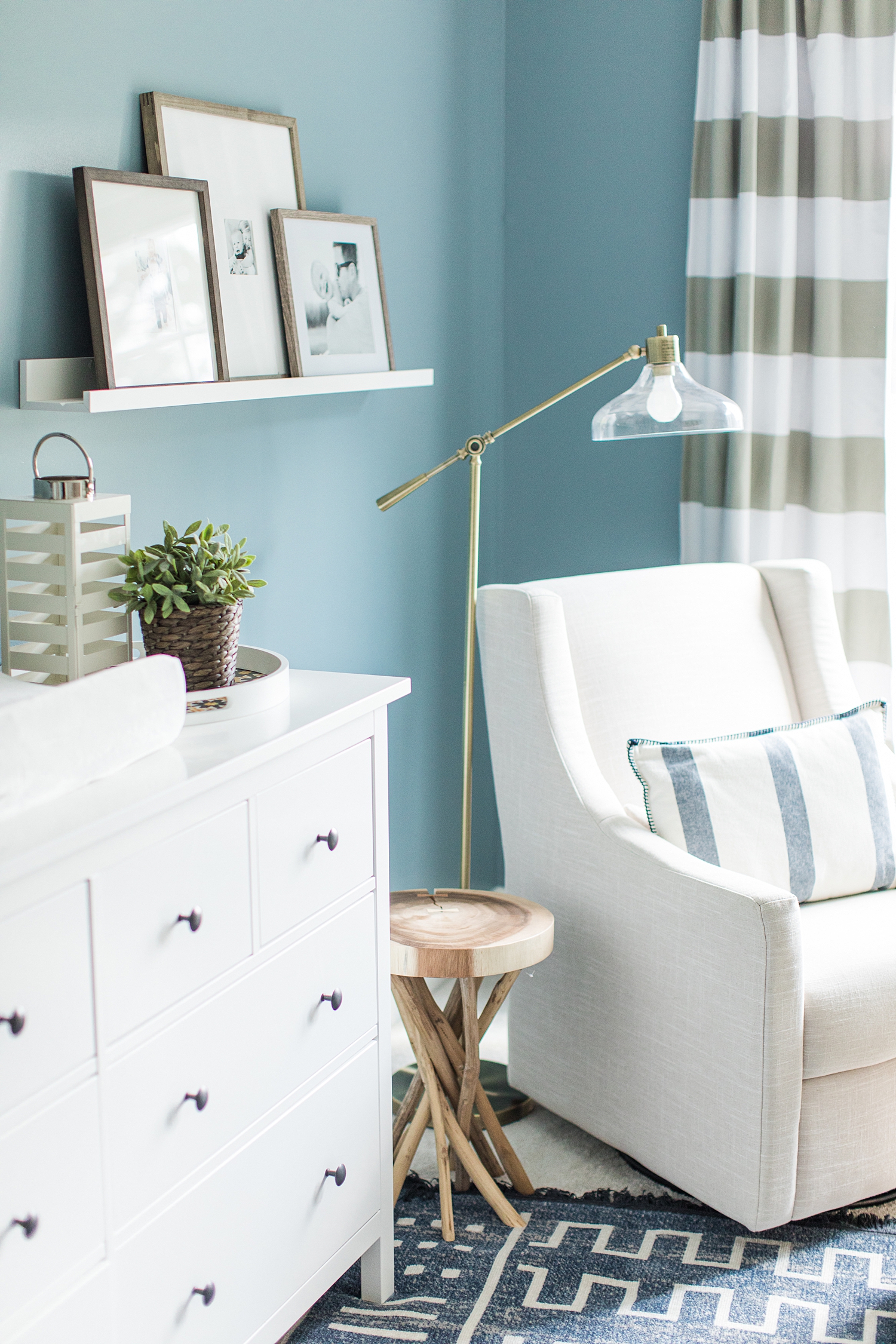 Three-piece woven basket set These were a splurge but they are honestly the most well-made baskets I have EVER purchased…even Michael randomly commented on how great they felt!
Tiny set of faux succulents These can also be purchased from IKEA for cheaper… just not as cute!
Wooden Side Table It falls over easily but it's unique and cute so we kept it! It's teaching Graham "balance". ha!
Dresser: IKEA Hemnes Collection (literally, we own 5 of these total… so cheap and they last!)
Crib : Gift from Grammie and Paw! Evy has converted hers twice and it's now a full size big girl bed!
Picture & book shelves : IKEA – Mix of 21″ and 45″ options
Rug: 7×9 size
Floor Lamp : Target
Rocking Chair – Wayfair from about 3 years ago (repurposed from Evy's room!)