So the morning room was just a way to get from the dining area to the living room. This adorable little add-on that we paid good money for was just serving as a "cut through"and I knew it had so much more potential!  Michael and I have invested a lot in new furniture this year.  We went from 1,200 square feet to 3,030 and our original borrowed couch from his mom wasn't going to cut it in the new living room. So we saved and waited for a big sale and furnished the living room with pieces from Bassett and Ikea! After those purchases, we had to wait a while before I could start dreaming about the morning room.
Fast forward several months…. I was looking at some chairs from Pottery Barn and dreaming of how awesome they would look in the morning room. These chairs were $1,000 a piece and we were definitely NOT paying that!! We like high quality but that would just be ridiculous for that tiny space! So I started researching that style of chair and I found one VERY similar on overstock.com for $250!! YESSSS!! I ordered them and once they arrived, I was on a roll! I found curtains at World Market! (I love curtains from there because they have 96inch AND 84inch options!) Then, I got a deal on our teal mini-hutch from Homegoods! (Please note, Homegoods is a discount store and they never know what their inventory may be so don't get your feathers in a bunch if you can't find this online or at your local store!! We've received emails from people not being about to source items that we listed and so I just want to make sure everyone understands how Homegoods works! :)
Lastly, I found a new lamp (my favorite decor item to pick out!) and I pieced everything together. It's beautiful! I love it and I'm so excited that this space is now user-friendly!! Just this past Sunday, I got home from singing at church at came in the house to find a ton of our friends sitting and chatting in that newly decorated nook of our home!! It made my heart happy!!!
I hope you enjoy this!! I think this may be my NEW FAVORITE ROOM in the whole house! Happy Friday everyone! Stay WARM this weekend! Whew! It's FREEZING over here!!! :) To see other HOME posts, click HERE!
  Before!!
And after! 
Shelf from
Joss and Main
!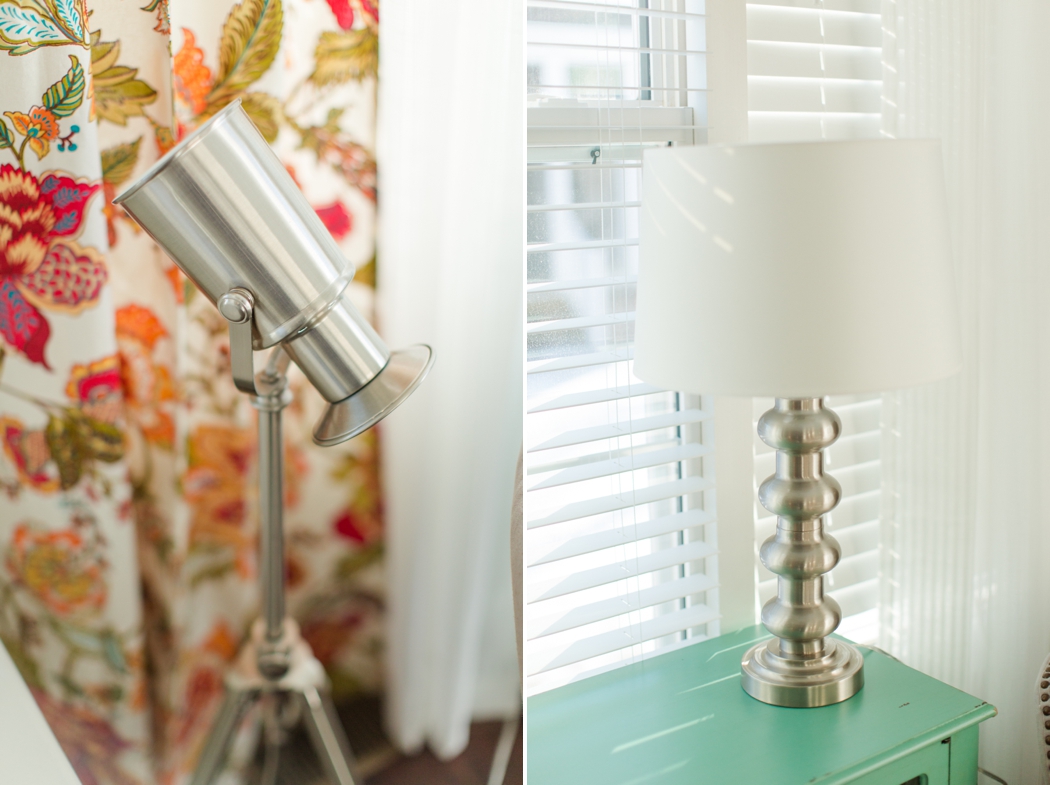 Lamps, Ottoman, Mini-hutch : Homegoods Chairs : Overstock.com Curtains : World Market Rug: Pottery Barn Tray : Pier One Tiered Shelf : Joss and Main Paint Color: Sea Salt by Sherwin Williams   Review of the chairs! : These chairs don't provide amazing comfort… but I was VERY happy with the color and size and quality. One cushion has a slight lump to it but for $250, it's a GREAT chair! We just sat in the Pottery Barn version the other night and it's not oozing with comfort either and so we decided that it's just the design of the chair. The back leans back and is tufted so there isn't a lot of fluffiness there! If there were going to be my everyday living room chairs that I spent hours in, I would consider another style. If they are being used for a accent/sitting area, they are perfect!