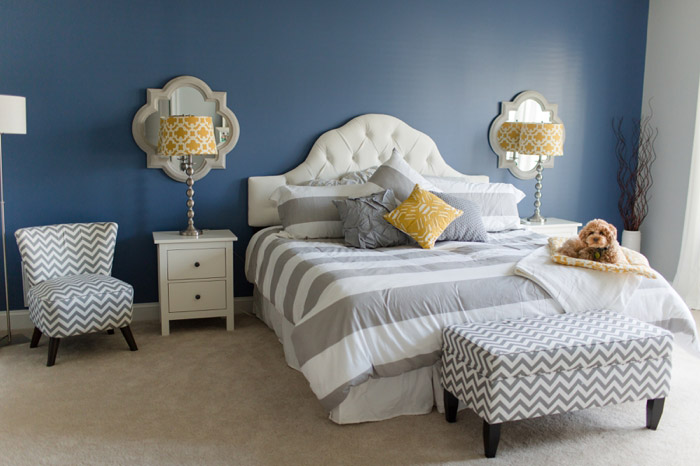 I had told Michael that I didn't want to show any pictures of the house until I felt like it was done…. like 100% decorated. Well, I quickly realized that that is not realistic… at all. I LOVE to decorate… it's my hobby and what I choose to do for fun! So when we moved in, I went to town! However, there is little thing called a "budget" that can really slow down the decorating process and I have reached a point where I have had to stop and take things one step at a time. This is totally fine because we're in the midst of wedding season and I don't have much time for decorating right now.
So there are parts of our home that I have big, beautiful ideas for but those projects will be completed later on.  In our old house, decorating was FAST and easy to accomplish in a short amount of time! …. Because it was a tiny little house! I remember Michael going away for a work trip right after we got back from our honeymoon and I decorated the whole house in a matter of 4 days! It was AWESOME!! I was naive to think that the same thing would happen with this house! We over doubled our square footage with the new house and so I've come to realize that this is going to take some time. Now don't get me wrong, we have accomplished a lot in 4 weeks time! We had two large events here in June and so that kicked me into high gear after we moved in! We're still missing some curtains here and there and some furniture is backordered and frames are up but they are empy…. that will come together eventually! So I wanted to show a few glimpses of our new house because I am proud of what we have accomplished so far and I want to document this fun stage of our life together!! Enjoy a little sneak peek of the new house and I'll try to remember to source as much as I can! :) HUGE thanks to our sweet friend Wendy Morton for helping me pick paint colors! :) The ONE color I picked by myself, I don't like… and I'm not showing that bathroom! haha.
So this is my new office! It's a lot smaller than my old office but this this really all that I need! I LOVE IT!!! It's more formal but still welcoming and classy! Eventually there will be a pretty fan or chandelier hanging down! Paint color is Sherwin Williams: Waterscape, Desk: Pottery Barn, Chairs & White Table: Homegoods, Mirror Table: Target, Rugs: Target.
Coming down the foyer, you'll enter the living room! ALL paint is Sherwin Williams. This color is "Amazing Gray"… even though it looks like a taupe! 
All white pieces are from IKEA! Even the shelves… we're bargain shoppers for the stuff that won't last forever! The couch however is from Bassett and it came with custom pillows! 
Rug: Pottery Barn
Chairs: Bassett, Mirror: Homegoods, Lamp: Homegoods
Table & Lamp: Target
It was early, he was half asleep:)
My crazy half bath! It's more "teal" in real life:)
The kitchen!
Pendants from Pottery Barn online.
Bar stools… funny story, I ordered "two" and got "four"…. evidently they come in sets of two! They are from overstock.com.  The kitchen table was from our first house and it's IKEA! GREAT purchase! So cheap and it has held up really well so far!
Vase from Target!  Paint: Seasalt
Morning room… this is the room that won't really be furnished for a while. Whenever that day comes, it will be seasalt and coral!! Rug: Pottery Barn, Table: Pier One, Sette: Target (a long time ago!), Lamp: Homegoods
Cute vase was a gift from Anthro
Heading down the hall to Michael's office…
Very manly:) Paint: Cityscape, Chair: World Market, Ottoman: Crate and Barrel,  Desk: IKEA, Curtains: Crate and Barrel
Master bedroom… and Bokeh's favorite spot:) Bedding: Zgallerie.com, Headboard & Chevron pieces: Joss and Main, Lamps: Target, Mirrors: Homegoods, Nightstands: IKEA, Paint: Demin blu & I forget the gray color's name! oops!
Isn't that a cool lamp?! It's from Homegoods! Curtains are 96″ and IKEA sells them for so cheap! They aren't lined but they worked great in this room!
Our bathroom wasn't presentable this morning but the shower appeared clean! 
The loft! It overlooks the living room!
EVERYTHING except the TV is from IKEA.
This is our funky room! Half of it is a craft area, the other half is like a mini bedroom! (IKEA)
Bedding isn't in stock anymore, furniture is from IKEA, Paint: Meditation Blue
Bedding: Target, Paint: Amazing gray