The house is beautiful. It's more beautiful than it looked on paper. When you design a house pretty much from scratch, there is no way to tell what it will ACTUALLY look like in real life until it's STANDING!
We have been analyzing 1-D drawings of the house for over a year and to be honest, I was worried. You can't see DEPTH and DIMENSION in a drawing like you can in real life so the house looked way too long because of the garage on the right. It's still a really LONG layout for a house but now that it's standing, we love it. It's our dream house and our dream land! We just can't wait to be able to LIVE there!!!!
A lot has happened from June to September. The framing is done. All of our little changes have been done and all of the WINDOWS are in! Believe it or not, this post isn't even completely up to date because the DRYWALL is completely finished now. It feels like a house inside instead of a war zone! haha Enjoy some of our pictures of the progress!!!! I'm going to start where we left off in our LAST POST!
Ps. I feel like we've been sharing so much of this but really we've just been sharing via Insta-stories and our "A Home Made for Hosting" Instagram account that you can follow HERE! If you want to see a few of our selections, I just shared one of our CRAZY ones on our HMH account!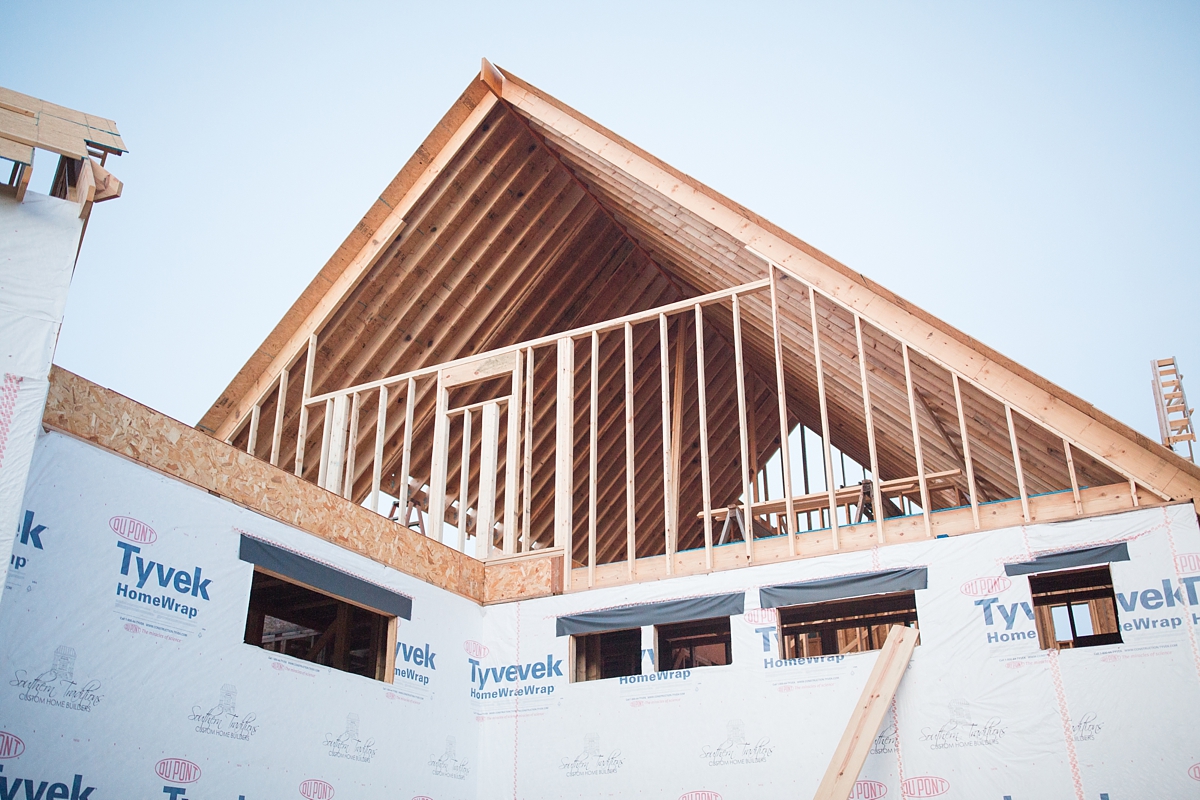 Bokeh Boy only likes the windows on the first floor
I love that the sub contractors and our builders communicate through drawing on the walls! We have little messages and diagrams all over the house!
If you follow our Home Made for Hosting Instagram account…. you heard my story about this. I told Michael we would never share pictures of the back of the house on the internet. Ever. Especially not on social media. I didn't want people to judge the size of the back of the house. It's a big house. It also has a big purpose. We shared a post back in 2014 about our old house and received one incredibly rude and judgmental email and I think it still haunts me.  However, I'm realizing more and more that I don't need to hide what we're doing just because I'm worried about what people might think. But I do feel like it's helpful to understand our vision. Because really, what does a married couple with a baby on the way need a space like this for?!  Well, the entire bottom level of windows are a basement that is pre-framed for a future apartment. We don't know who will live here, but we're hoping that it will be used for a college student or a youth intern at our church or a Young Life staffer or aging parents….anyone who needs an incredibly cheap place to live and who would be blessed by our space and by our family. I grew up with my parents having an apartment off the back of their house. Families lived there in times of need, single women lived there during in-between seasons of their life and young friends stayed there while they waited to see what God had next for them . I grew up learning that our home… no matter the size… was a gift that was meant to be shared with others. So we included a basement for that purpose. :) We added the room off of the kitchen specifically because of our industry. The biggest blessing of our last home was getting to share it with workshop attendees and form intimate relationships with them because of the safe space that we created in our home. So when our old neighborhood told us we had to stop hosting workshops, we started dreaming about where we could live where no one would bother us and we could continue on with our dream…. and here it is. We're excited for our first workshop group in 2017 to fill these rooms and use our space!! The room off to the right was designed to be able to shoot in even in the dead of winter. We had one workshop two winters ago where it was 10 degrees and our florals FROZE. Now we'll have a white, bright interior space for shoots that we can always use, rain or shine!