Now I'll be the first to share that you don't need a space like this to serve and open your home to others.  We started opening up our home and using it as a gathering space when we lived in a 1200 sq ft cape cod and the air conditioning didn't work!! Your heart to SERVE is more important than your SPACE! I just want to make sure I put that out there before I share these images.
My hope is that through sharing our design thoughts and ideas, maybe this will give some inspiration to others who are building or remodeling their home! I heavily depended on Home blogger's posts and ideas to help me design our house and so this is my way to pay it forward!!
We designed this space to make it easier to host large groups. Our last kitchen got really hot and crowded during our workshops. There wasn't a good path for movement or a large amount of counter top space for serving. We hosted over half a dozen workshops at our old house and that helped us make design decisions for this house!
The BEST decision we made was getting rid of an "L" shaped outer countertop and creating two islands instead. We hosted a baby shower with over 45 people in the house two weeks after we moved in and the kitchen didn't even feel crowded with that massive amount of people!! They circled around the second island where the food was and it was like they just "got" the flow of the room that we hoped for when we designed it!!! YESSSS!!! It worked!
These floating shelves DID save a lot of money in the cabinetry department. However, when you add sconces and a tile backsplash to the ceiling, that adds some cost back in. So we had originally had a decorative specialty tile for under the hood, but we nixed that idea once we saw the price tag, and we realized that it would look too busy! Staying simple was smart! 
Want LONG, white curtains that are super affordable?! IKEA for the win! Ps. It took me about 15 tries to write that chalkboard sign.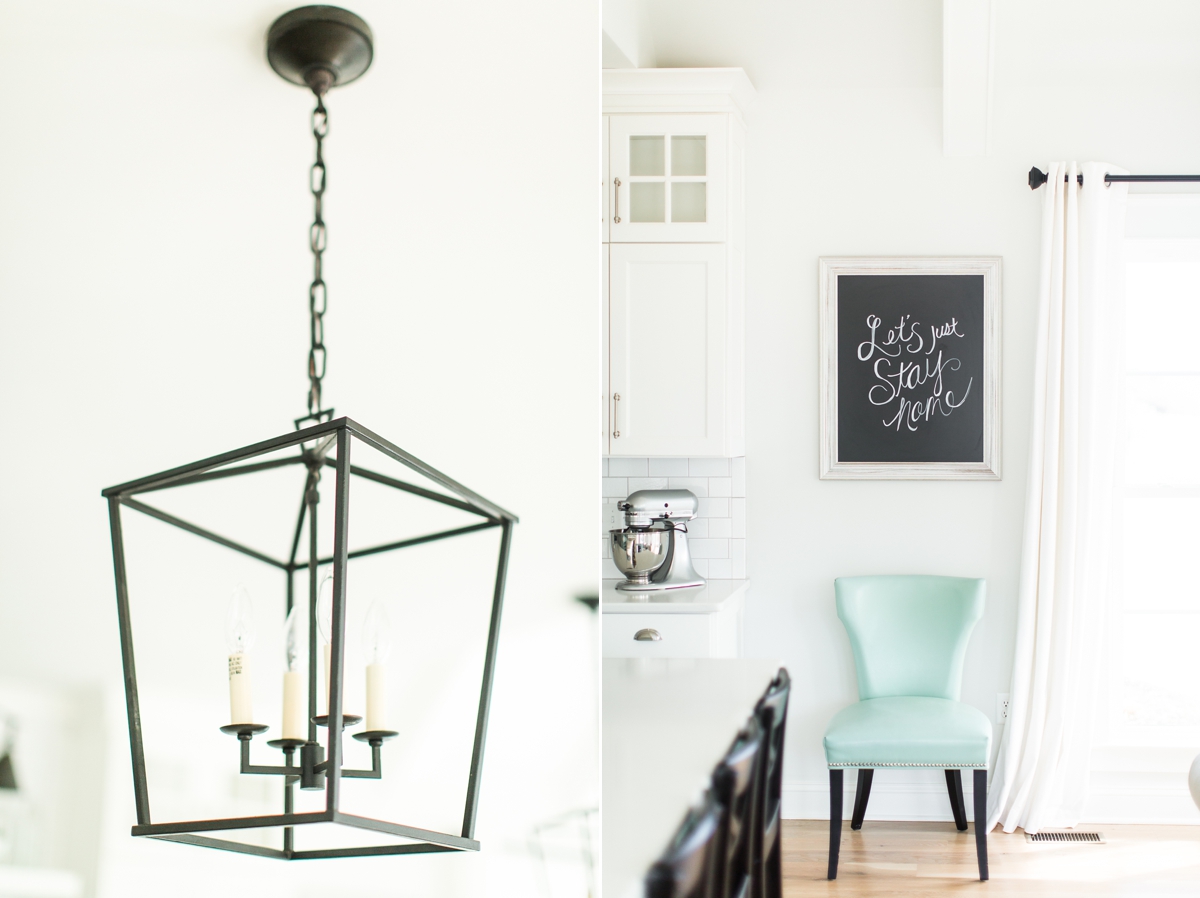 Ok…. you would think that open shelving would be cheaper than cabinet doors…. not the case. Ugh. Evidently open shelves cost a little MORE because you have to paint the entire inside of them. Well, thankfully it was worth it, because this was my vision and I loved the way it came together! We have SO many serving dishes from our wedding, from workshops and from hosting other events and this is how I wanted to display them!! You can withhold your "Well, your kids are going to destroy those dishes" comments because we'll deal with that season when it happens. ha! 
That cabinet on the left? Most difficult part of the whole house. There was a slight .5 inch dip in the ceiling just in that one spot and it made it really interesting when the cabinet was hung. But it's FIXED! 
Best place to get affordable bar stools? IKEA again! $59 each! Target doesn't even have options that cheap that actually look good! 
The choice to paint the islands my favorite color of minty teal was a RISK. But Michael said ok and I LOVE them!!! Paint color : Waterscape by Sherwin Williams
Another fun idea was adding this barn door! This used to be our LAUNDRY room and now it's our pantry. This barn door slider kit is actually just from Lowes and it has a "slow stopper" on it that prevents it from being slammed shut or open! 
The trick to decorating floating shelves is to keep negative space and keep it simple! 75% of what I thought I wanted on these shelves ended up being too much.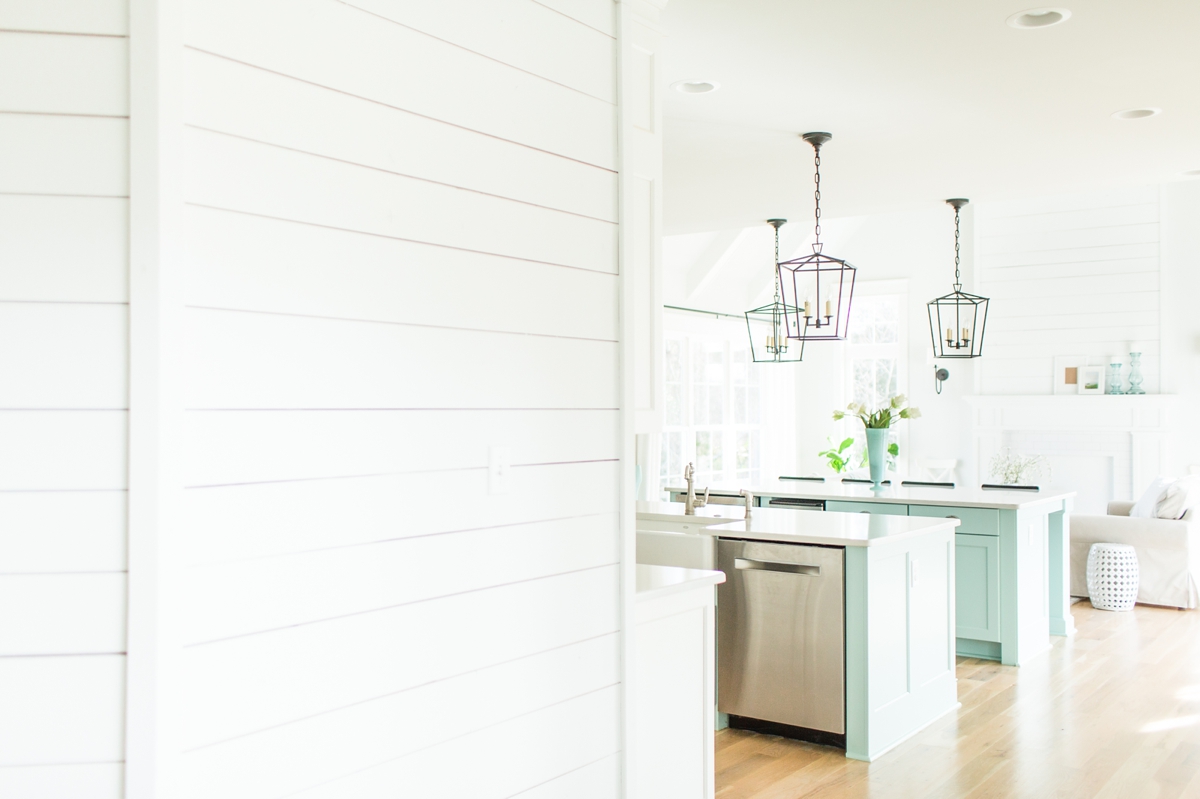 The hardwood floors were a good decision. They are white oak with a diluted cottage white stain of 50%! 
Another good decision was having glass-less pendants over the islands. Glass in a kitchen quickly collects films and grit from the steam of the stove and sink. These pendants are from Ferguson and the designer is Visual Comfort.