Thankfully, Michael and I stuck to our guns and saved a weekend in July to have some time off. We had to do this a year in advance in order to actually make it happen and we are SO thankful that we did!!Just one Saturday off can do WONDERS!!! So since we had this time off, our family planned a little vacation from Thursday to Sunday. It may not seem like a long trip but it was awesome! We rented a house on Smith Mountain Lake and I think we spent more time on the Boat than we did in the HOUSE! :) I have the sunburn to prove it!! It was a blast and as much as I loved the boat rides, looking at pretty lake houses and getting thrown off of the tube… my favorite part of the trip was being with my family. I'm so thankful that we love each other and enjoy time together! Family vacations are always a highlight of our summers and I'm excited to give you a little peak of our time together. Warning: There are a TON of epic tubes shots. They may get old to you but we're going to be laughing at these for years to come and so I'm blogging a lot of them!! I've said it before and I'll say it again, this blog isn't just about our business, it's an online scrapbook of our life!! I LOVE looking back at vacations I posted YEARS ago! :) So here's our Smith Mountain Lake adventure of 2014. Enjoy!!!
So as soon as we got there and unpacked, Michael and Joe decided to hang their hammocks…. over the water. It was quite entertaining watching them try to actually get INTO them! First attempt:
Oops.
Second attempt….
oops.
Joe even tried a few times…
Eventually they made it in! 
Momma and her grand-puppy!
I PROMISE Michael isn't naked!
And now the real fun begins! 
Corey (my brother) LOVES tubing… it's probably one of his top 5 favorite things to do! So he was in HEAVEN… and you can tell by all of his MANY facial expressions…
New brother-in-laws! So thankful Joe puts up with our crazy family! AND that he's a great tuber! :)
Love this!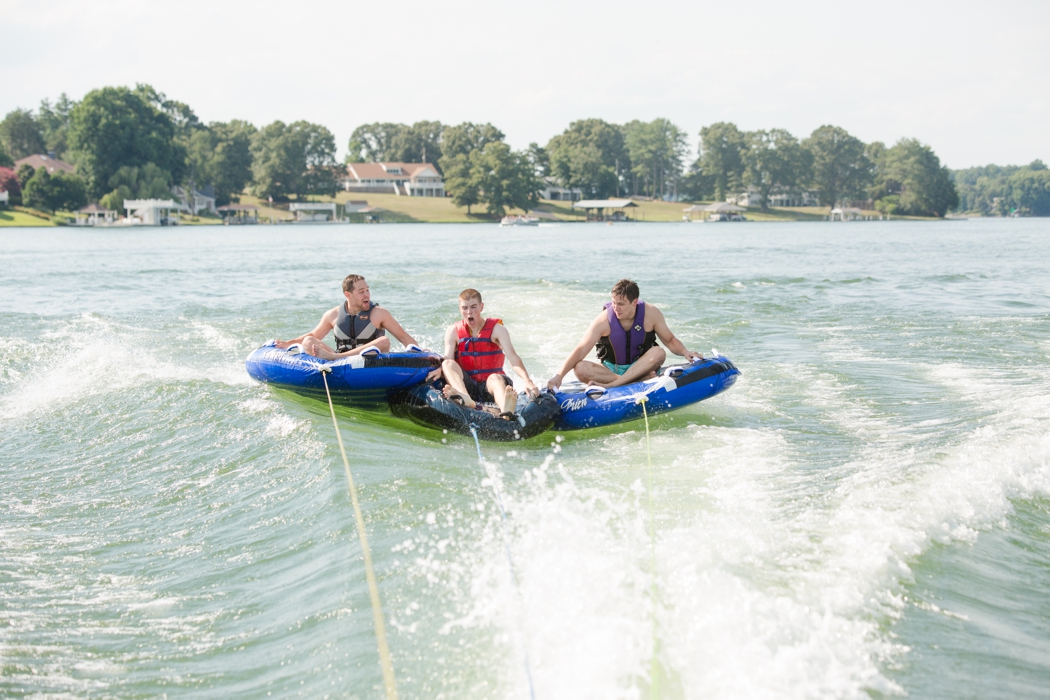 Joe was relaxing… 
But you can't relax long out there before someone tips you over!
Ha! Love this!!
Annnd you won't see many pictures of me and Emy tubing… haha But here are a few! I'm pretty much as white as they come. No tan for this girl! 
No idea how we ended up on the same tube but when the other tubes are vacant, they FLY! And it's SCARY!! 
Sheer terror!!! ha!
Ouch!
That was end of day one… and we came home, ate dinner, played games and prepared for day two.
Love that shot of Daddy and Corey on the right:) Best buds. 
Bokeh boy does great on the boat… but the bumps scare him and the sun makes him tired so he likes to snuggle up. :)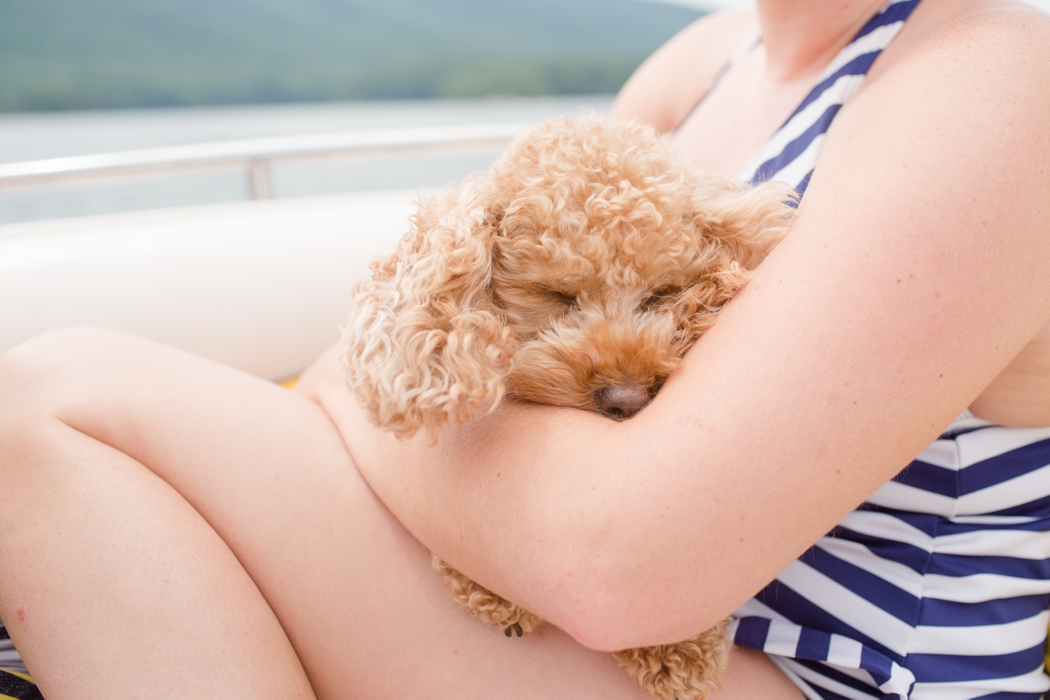 The captains… and we'll allow daddy's hat ONLY because we don't want him to get skin cancer… ha!
air born again! 
They seriously tubed for 4 days straight! And Michael has raw skin and a life jacket tan to prove it!
Momma gets the puppy snuggles. They like sitting with her during the bumpy parts. :) 
Oh my gosh.. how could anyone not love a face like that?! What a CUTIE!!
More tubing… 
Love this:)
And this immediately followed…
If you look closely, Corey is still hanging on!!!
It looks like Michael kicked corey in the face!
Michael rode like this for a good 20 seconds! Impressive!
And then we hit the biggest wake of the day… 
And Joe literally FLEW!!!
End of day two… and Corey found a random inner-tube and floated out to sea. (He really wasn't far from the dock but the way I cropped this makes it seem like he was in the great abyss!)
Day three included illegal cliff jumping…
Joe had the best form!
Annnd more tubing:) 
Love this! They had a blast! 
ha!
And then this was the sad part of day 3…. Emy spotted a baby fawn stuck in the rocks on the shoreline and we thought it was dead. However, when we looped back around, we saw it flick its' ear. Poor little thing. It was barely breathing and so Corey and Michael used a towel and picked it up.
They were going to leave it in the grass but another guy pulled up and said his mom worked for a wildlife rescue and so he took it away to get some help.
Obviously mother nature takes it's course but when you see a little guy like this snuck and left to die… it's impossible to just forget about him. He made not have made it and we'll never know… but at least we tried!
Day four included packing up and doing some more TUBING. I'm STILL sore!!  We had so much fun and I'm so thankful for the time off! Now we're prepping for the second half of wedding season, our first international workshop and several conferences!! Work hard. Play hard. :)