Michael and I were just a sounding board, but we loved getting to be a part of the process!! They wanted to start a mobile coffee bar like they had seen in Alaska and in the Pacific Northwest. Mobile coffee bars aren't super common on the east coast unless you're in the heart of a larger city, and so starting this adventure in our little home town was definitely a risk. They started to slowly gather details on what needed to happen in order to make this trailer a reality; health code regulations, expenses, gas, a generator, a place with permission to park and do business, hours, menus, etc.  So much goes into a dream… and it's not as simple as just hearing "You can DO IT!!!!!!". Motivation is great, but when the rubber hits the road, you need a dose of reality in order to realistically make your dreams happen.
Well the reality for this crew was that they didn't have the means to pay for traditional advertising. If they wanted to make a name for themselves and have reoccurring customers who love them and are incredibly loyal to them, their marketing wasn't going to come from billboards, ads and a flashy neon sign on the side of the road. When I started my business back in 2008 I was in a similar situation. I didn't have the money to market like other larger more established businesses were doing and you know what? That worked in my FAVOR!!! I started marketing PERSONALLY and I started creating my own TRIBE!!
If you have ever read the book TRIBES by Seth Godin, you know what I'm talking about! (If you haven't read that book, you need to!) TRIBES have been around forever. You may not realize it, but you have tribes in your own life! Most people have MULTIPLE tribes. For us, we have an industry tribe, a college tribe, a family tribe, a church tribe, etc. etc. These are groups of people who are all connected to one another because of a shared idea or experience! Within these tribes we have a "place" and a "purpose", and this makes us want to be further connected to our tribes!!
So if people are naturally forming "tribes" in their lives, why don't we use this to our advantage in our business?! This is what we encouraged The Mix House to do!! It's very easy to establish a tribe of your own when you run your small business very personally!! Here are the THREE THINGS you have to remember when forming your tribe:
Your tribe HAS to be connected to a LEADER, to EACH OTHER and to a SHARED IDEA!
For us, our brides have to have a personal connection to ME (the leader) and to one another (other KJ Brides). The more of a connection you can form the stronger and more desirable the tribe will be! Our Tribe's "Shared Idea" is that our clients love being a part of our growing business! They feel like they are a part of it and that they are contributing to it! This is what has happened at The Mix House! When they started with their BRIGHT ORANGE trailer, they didn't shy away from sharing their story, their hearts and their dreams for this new business. Everyone who came in contact with them had an opportunity to fall in love with them, and because they serve people on such a personal level their customers became fans and then quickly became TRIBE members!! If you allow people to be a part of your business, they will celebrate your wins with you because they feel like they are part of the team!!
Because of their tribe, THE MIX HOUSE had their GRAND OPENING for their STOREFRONT in Bowling Green, Va and there was a constant stream of customers pouring in from Main Street!! Some of their most faithful customers even brought them handmade gifts for their big day!!! The Mix House has a tribe of "Mixers" that absolutely love what they are about and what they are doing! It was incredible to see this group of friends pursue a dream and then be so supported by their "people"!!! The Mix House tribe is the reason they have been able to grow so quickly!!
So how do you create a tribe of your own? Well, I highly recommend a few things:
– Run your business personally! If you have zero personal connection in your marketing, your future tribe members won't have enough of a personal connection with you to trust you and become a die-hard fan! You have to put yourself out there!
– Tell your STORY! It's easy to think that your story doesn't matter, but you only think that because you have never shared it and seen the fruit from it! Don't hold back! Share why you're passionate about your dream and what led you to this point in your business!
– Share your wins! The more that you see your tribe developing, the more you should share those little wins! For example, when a Mixer showed up to the grand opening with a hand painted gift, they put that painting on display right next to the register so that everyone could see this "tribe win"!!! The more wins that you share, the more people will realize what it means to be a tribe member!!
There are SO many other tips and tricks about creating a TRIBE in your small business, but for the sake of time, I'm going to leave you with the three points listed above! As you look through these images, you'll see the Mix House and their beautiful tribe hanging out at their brand new store front!! It makes us so happy to see their dreams coming true!!!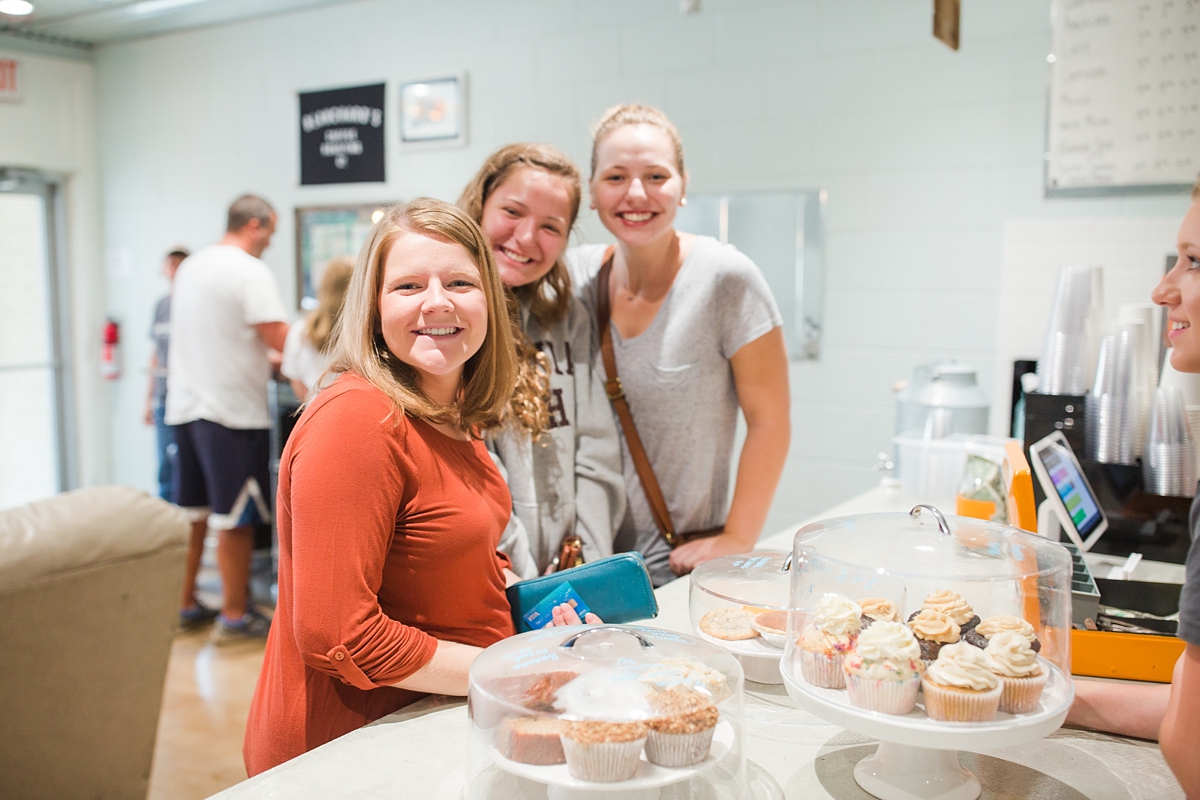 Check out other Ask Anything Posts Here!