I deleted over 600 words of that blog post because I knew that wasn't what I was supposed to contribute. It was just adding to the noise of this crazy season.
Instead, I have spent this week paying attention to what's happening in our world, in our industry and also paying attention to how it's affecting me personally.
Last night… at like 1am…. I realized what I was supposed to offer and share in the midst of all of this. This isn't IGTV video isn't very professional… I'm literally in my PJ's with smeared mascara but I'm really glad I recorded it and shared what I did. I hope it will be a blessing to you….
I also created a (more professional) video resource on our Youtube Channel that just went LIVE TODAY! I'm sharing FIVE (in-depth) TIPS on how to THRIVE in this season of COVID-19 instead of JUST SURVIVE. I'm sorry it's a lengthy one but I hope you'll enjoy it and find it helpful during this hard season that we're all experiencing in different ways.
If you're more of  VISUAL LEARNER, I've taken these FIVE TIPS and I'm put them into a FREE DOWNLOADABLE GUIDE that may help you process and apply each point better!!
---
Also, after hosting a heavily-attended FB LIVE in our KJ Education Facebook Group this past week, we talked as a team and realized that during this season, we could commit doing weekly FB Lives to connect with our students and foster a sense of community when we all feel so alone and isolated. So, starting next week, we'll be hosting "STAY APART | LEARN TOGETHER" FB Lives in our KJ Education group for ANY photographer, whether you're a student or not! We'll see you Monday at 2pm EST!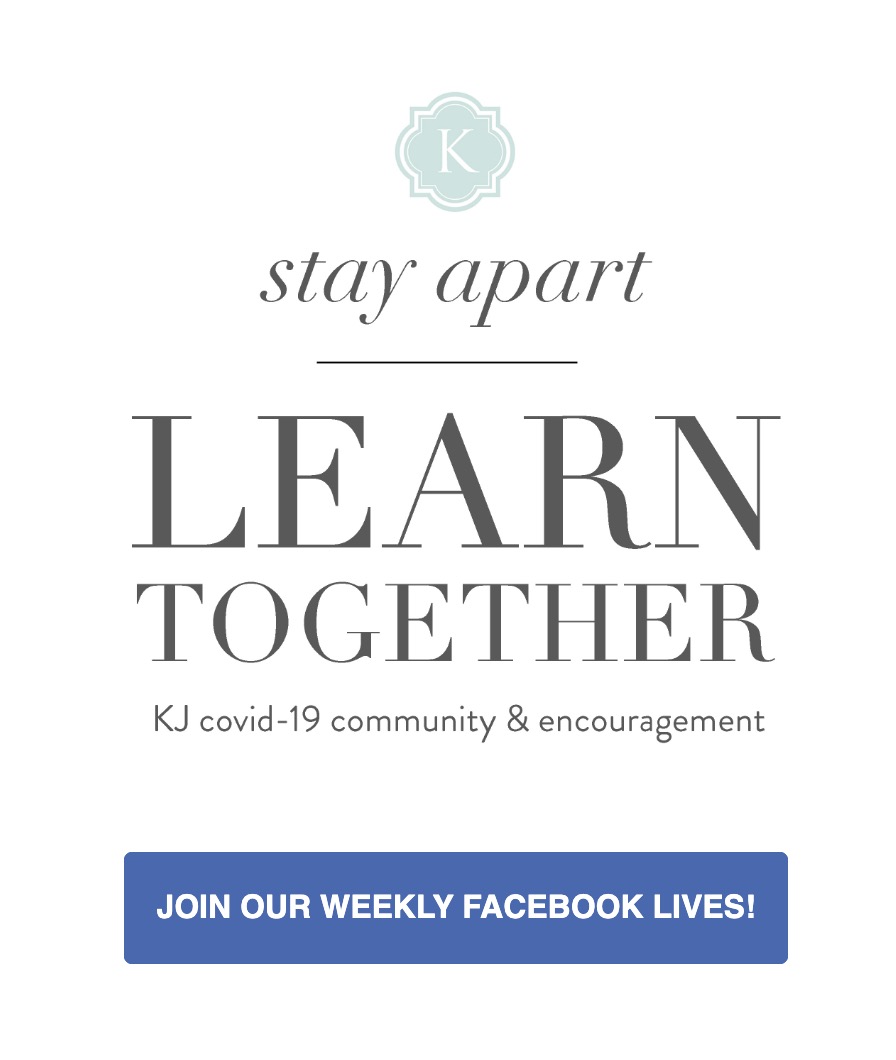 In other very exciting news, our team has been brainstorming ideas for how to be a blessing to our KJ ALL ACCESS community and we have decided to open up the KJ ALL ACCESS vault to all active members until the COVID-19 crisis subsides and life begins to return to normal. This means that our members, as of TODAY, will have ….
ACCESS TO OVER TWO YEARS OF EPISODES!
They'll be able to watch and learn from weddings and engagement sessions of all different styles, with all different challenges that we overcome and with different situations to learn from!
If you're ready to JOIN KJ ALL ACCESS, CLICK HERE! 
**If you have been a KJ All Access member in the past and would like to re-activate, please email us at Katelyn@katelynjames.com! **
WHEW…. now that was a LOT of info. We love you all…. we care about you… we know this season is hard… and we hope these changes that we've made to the educational side of our business will be a blessing in the midst of the hardship.