I only do this because I LOVE design and I have a background in design work so I have an eye for composition and balance. I realize that most of my clients don't have a clue about design and contrast and negative space. I used to ask all of my couples to pick 50 images (out of over 1,000 images!!) and that's what I'll use to design their album. This wasn't smart for two reasons. One, it was overwhelming for the couple and two, most of the time they weren't choosing images that flow together and make a cohesive album. So instead of using that approach, I have started designing albums first and then allowing my clients to have two rounds of changes. This way, they are still getting the album that they WANT, but they have something to start from that is designed well. Now, this just works for ME… it may not work for other photographers and that's totally fine! It's just my opinion.
If you haven't noticed, I blog a lot of images….. A LOT. And I do this because I have a problem picking favorites but also, I use these blogged images to create the first draft of the client's album. I add in a family formals page and make sure the ceremony is displayed well and it really makes for a simple process! I import that folder of images into Photojunction, prepare the album file and begin designing! I then export the design, upload it to the client's gallery and enable the "commenting" tool so that the bride and groom can comment on the spreads about what changes they would like to make. It's a very simple process and it works! Many ask if I use templates and the answer is YES and NO. I use templates and I also "adjust" templates a lot of the time! Recently, I have become involved with T4P – "Templates for Photographers". Megan Garrison asked if I would design some samples and try out these template designs and so I agreed and I loved it! If you're interested in purchasing some of these templates and seeing some of my sample images, you can view the T4P website: http://www.templatesforphotographers.com/  (ps. I use Leather Craftsmen for my albums and I LOVE that company!)
So! When I am shooting portraits, I look for GOOD light! When I find amazing light… I STAY THERE. I do this for three reasons:
1. Why move when you have good light? Use it up!! Shoot as MUCH as you can in that great light and don't risk your chances and time by taking one shot and then leaving to search for more locations! You are GUARANTEED great shots if you stay in that nice light so use MULTIPLE poses and lenses and create as many "looks" as you can!
2. When you stay in this good light for multiple poses, it allows your couple to get comfortable and relax a little. If you look at my blog posts, I take several shots in the same area and the couple is just making small changes in the way they are posed. This is how I can capture so many portraits in a short amount of time!!
3.  I'm creating great album spreads when I shoot multiple poses in one location. The light is the same, the coloring is the same, the ONLY thing changing is the composition and that makes for AWESOME album spreads!!!!
I realize this is a quick explanation of this but I'm going to be showing you SEVERAL (way too many) examples of some recent album designs that show off what I'm talking about!!
QUICK TIPS FOR ALBUM DESIGN:
1. Pay attention to CONSISTENT LIGHT and COLOR
2. Pay attention to LIGHTS and DARKS and the HEAVINESS of the overall spread. You don't want all your lights and darks to be clumped together!
3. Design is the balancing of shapes, color, and lines that creates a path for the viewers eye to easily flow across the page. (That's not a legit definition… it's just what I same up with:)
4. Break the wedding day up into different segments. Don't fill spreads with portraits from all different times of the day. You should be telling a story!!
5. Balance color. If you have bright TEAL shoes on one side of the spread, try to add a little pop of teal on the opposite site, our eyes LIKE that consistency!
6. Less is more! 20 images on a page probably isn't the best idea:)
Hope this helps some!
pops of coral throughout the design…

The purple tones of the car tie this spread together
The blue wall and consistent light tie this spread together

One location, MANY poses.
A neutral palette
DARK coloring and neutrals tie this spread together.

Different compositions make this spread interesting and not redundant!
Can anyone find the HEAVINESS that draws the eye in? If you said the MENU shot, you're correct:) Pat yourself on the back and go eat an Oreo. You deserve it.

Favorite spread of the year!
One location, many poses.
There's a reason the flowy veil shot is on the end… it draws your eye off the page.

Break up the black and whites
Consistent light… love it.
These next two spreads were shot in ONE location.
Simple is wonderful!
The dark brownish tones of the door tie this spread together.
You know I love this!
Love this one!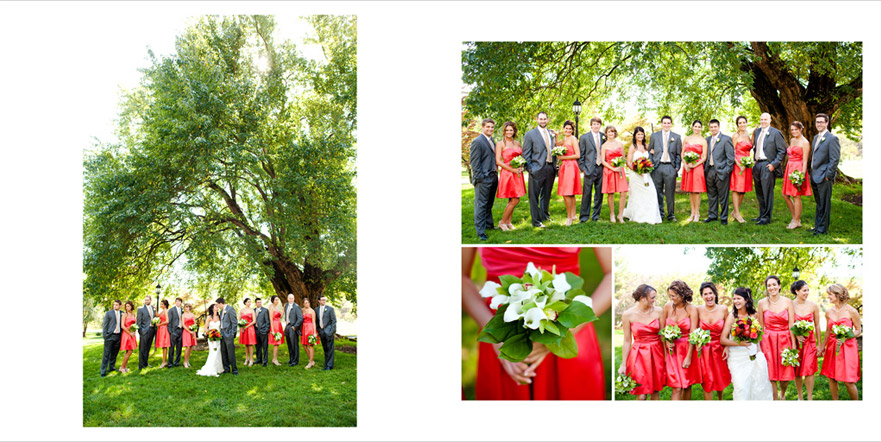 The wine colors are balanced….

Heaviness? The center image! It pulls the design together.
One location, totally different images!
Just change the lens up!
Love it!