How can you not burst with pride when you're walking down the aisle to marry a man that you've been in love with since high school who is now so highly respected in his military career?! I could say the same for Tony. He was all smiles watching Gabby step out of a horse drawn carriage and make her way down the aisle with her sweet smile in her stunning Kleinfeld's gown that fit her so perfectly! She was the most stunning bride and she has such a golden personality. She just makes you feel so loved and cared for when you're talking to her and that's a gift that not everyone has. Gabby is a catch and I think Tony is well aware of how lucky he is to have her FOREVER!!!
This was my first time shooting at The Salamander Resort in Middleburg and it was awesome! Such gorgeous views with a beautiful ballroom and plenty of portrait options! I hope you enjoy this bold and bright wedding as much as we did. Tony and Gabby, we felt honored to be the ones capturing this amazing part of your lives and we are SO excited for you! Enjoy Hawaii!!!!!!
Ok, if you can't tell by now, Gabby loves COLOR!!! Almost as much as I do! ;)
LOVED this gift from her girls!!!!
What an cute bridal gift from bridesmaids!!
Have you ever taken a Kleinfield's dress out of the bag? It's INTENSE! All hands on deck!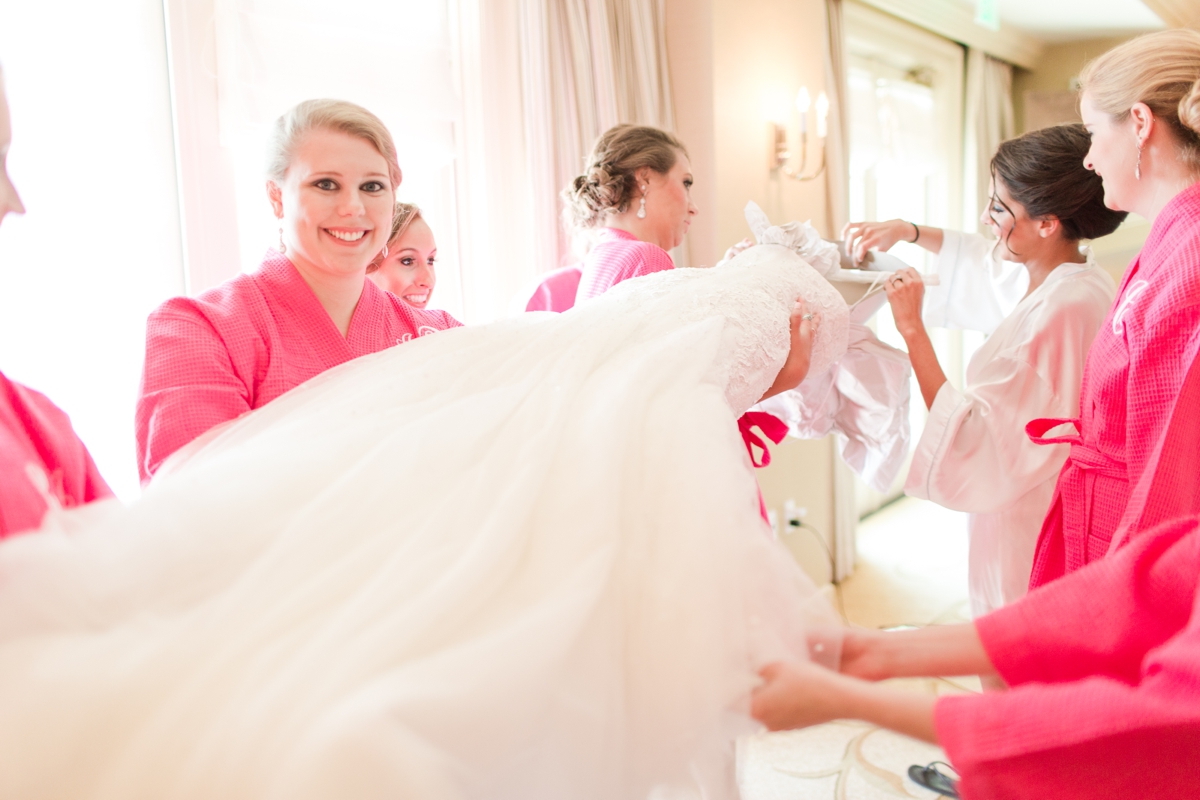 Reading cards from her girls! :) I just love their friendships!!
Looking sharp Tony!!
Gabby! Girl, you were a stunning bride!
I know this seems just like a normal shot but Gabby is having a moment with her LITTLE while her BIG is in the reflection. I'm not a sorority gal but I know that if I was… I would have loved a picture like this at my wedding!!
Beautiful flower girl!
Orchids for days!
Arrival via horse drawn carriage?! Amazing!
MARRIED and excited about it!!
Now THAT is a cake!!
Love this candid of them walking off the dance floor after their first dance!
Ha! I included this because I promised her I would! :)
Dress Store |Kleinfeld Bridal
Dress Designer | Tony Ward
Florist | Lavender Green
Ceremony & Reception Venue | Salamander Resort and Spa
Coordinator | Lindsay Forseth 
Catering | Salamander Resort and Spa
Hair and Make Up | Salamander Resort and Spa Salon
Band | Doctor's Orders
Quartet | Cherry Blossom Quartet
Cake | Jason Reaves
Bridesmaid Dresses | Nordstrom
Groomsmen Attire | Men's Wearhouse
Invitations | Paper Talks
other links :
View their downtown Richmond engagement pictures, HERE!
Photographers: Learn more about the equipment used for this wedding, HERE!