We came back from our trip and he had started army-crawling across the floor chasing ornament balls!!! He's on the move and honestly, I know that some parents dread it, but I love it. He can MOVE where he wants to go instead of getting bored and fussing because he wants to explore and can't. Previously, he would sit on the floor and rock and fuss and then spit up because he wanted the freedom to be able to move like Evy and his cousins. Now, even though he's slow, he can move and he's SO happy about it!!!
Here are some things I want to remember about this month of his life! :
He currently has 8 teeth….. and he's eight months old! Wow!
He still loves nursing but he can't concentrate when someone else is in the room or even if he hears a phone!
He got his first real cold right before Christmas! ugh. But he handled it so well.
He loves baths
He loves water bottles, pineapple, pouches, applesauce, zucchini, & being incredibly messy
He's still not perfect at eating his solid food. It's hard because I compare him to Harper and she eats EVERYTHING in sight! He likes to play with it, put it in his mouth but he hasn't mastered when to chew and when to suck so sometimes, it just comes flying back out!
He's wearing 12 month clothes. He can still fit into 9 month sizes but they are tight in his length!
He's starting to show signs of loving music!
He's just so happy right now and it's so much fun. I'll come around a corner and he's just cheesing at me.
He says DADA and Michael loves it!
He loves to rub his face against my face and giggles
He will frantically army-crawl towards me when he wants me to hold him.
He still lays his head down when he's tired no matter where he is.
He wasn't snuggly when he was tiny but now he is!
He's getting chunky!!!
His crazy scrunch is my favorite!
He always stops and puts his head down when he's tired and it's the sweetest thing. Sometimes, now that he's crawling (or "scooting"), we'll find him sprawled out like this on the floor!
Gotta be on guard at ALL times, she comes out of nowhere!
My disastrous Christmas card idea! It was cute… but it was a MESS!
Isn't  it funny that I always worry that our babies won't  have any personality.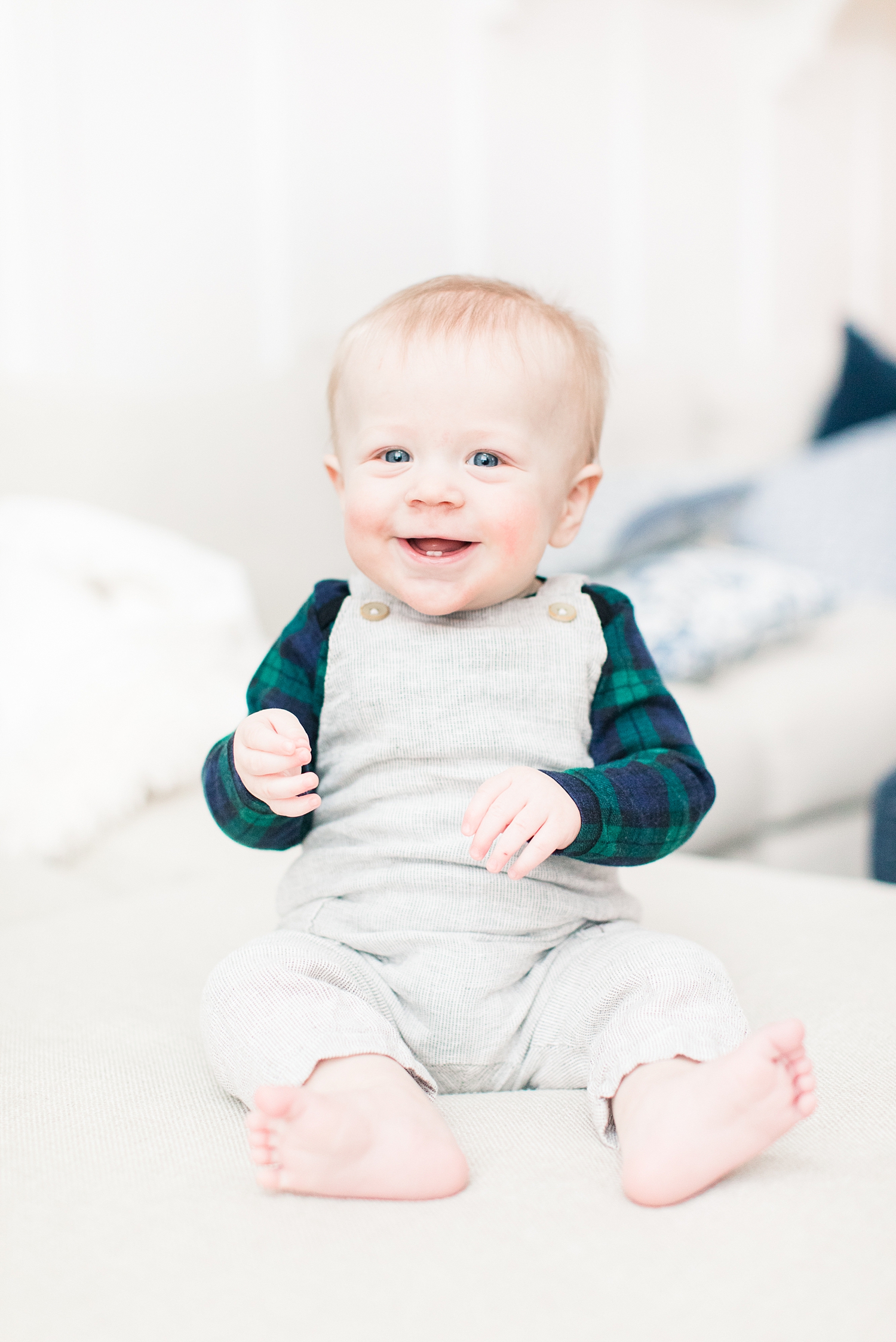 See, she came out of nowhere!
Hanging out with Knox Bear and Baby Roe! …. She's not a baby anymore! 
Graham and Sisi reunited!!!
Too much Graham….  too much.
That's what you get for biting her foot!
Another Evy hug….
She never stops!
This is the month that Graham started wanting to be around the big kids….
And trying to copy everything they do!
Grandaddy fixed our broken ottoman that hides the toys!
"What ornament?"

He actually REALLY started to "scoot" and move trying to chase runaway ornaments down the hallway!
My favorite picture from Christmas!
Harper is FAST these days!! She's almost ONE!!!!
Evy likes to crawl with her!
This was Graham's first day with a full blown cold. Poor little buddy.
Michael and I left the kids for 6 days to go to Maui and it was wonderful…. i cried leaving them…. but it was wonderful to get away.  I'll share more of that trip soon!
We hosted a staff/church leadership Christmas party after our Hawaii trip!
And  then the next day was Micah's 3rd Birthday party!!! 
My sister and her cake-making skills! How amazing is this!!!?!?!
Our van wouldn't  start and so Evy was an hour late to the party and Micah got upset that she wasn't there. They are truly best friends and it's the sweetest thing!
Evy also thought it was HER party and she hugged each kid after Micah opened their present. hahahahah
More Evy hugs!
Again with the hugs…..
She wanted to sing him Happy Birthday….
She also licked his candles without asking. We're going  to need to work on her party/social skills!
Micah's face when he saw his training bike!
Our sweet new friend, Josie!
Unke Corey chased the kids for about an hour!
This is our church's indoor playground that you can rent out for parties! The kids loved it!
Then we headed to Micah's house so that he could get his present from Mimi and  Grandaddy!
Evy's  first time driving it!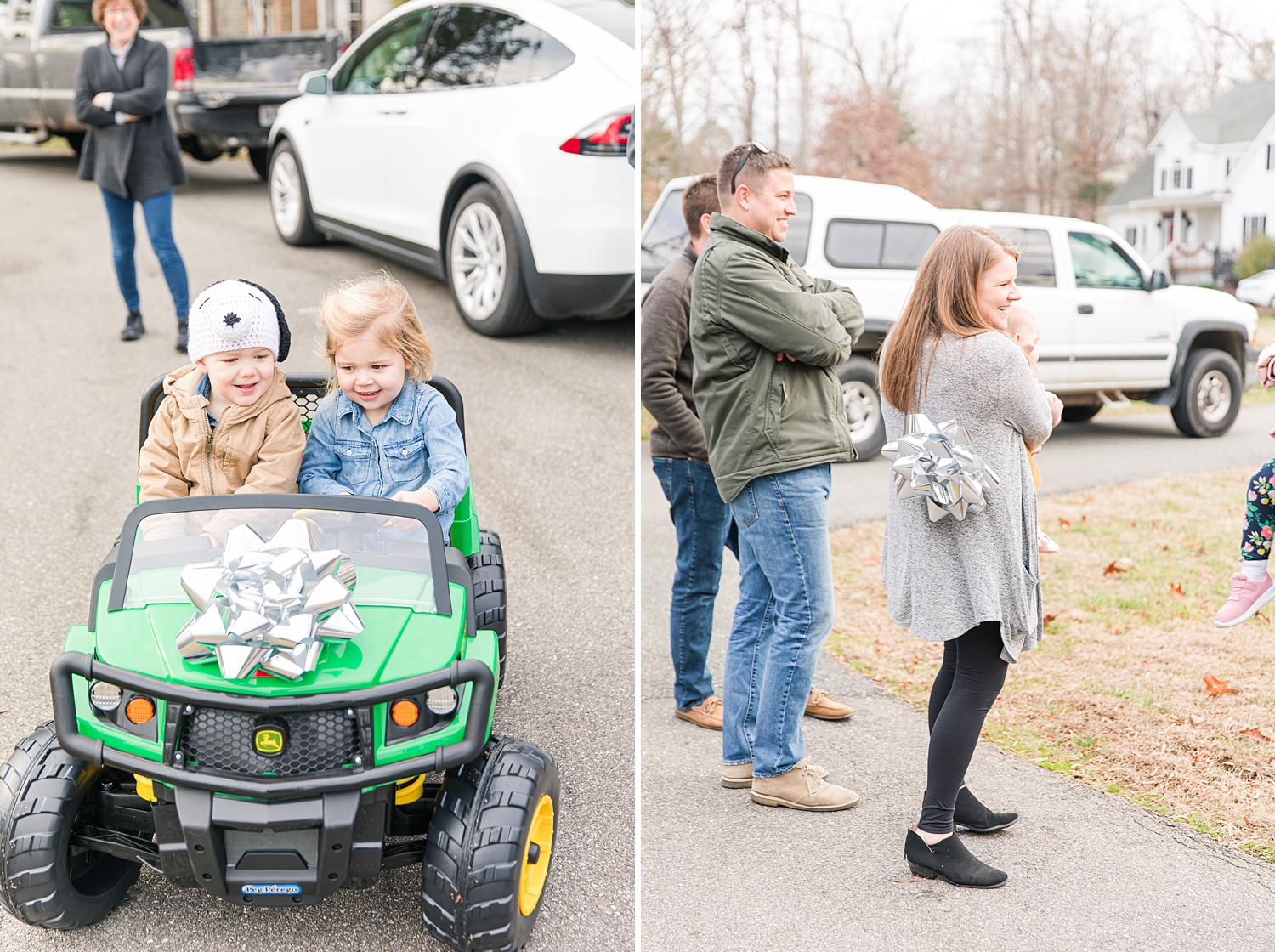 Then we headed to Kings Dominion for Winterfest and then to Mimi and Grandaddy's house for our "James Family Christmas"!!
This lasted for about 2 mins.
Our first time with matching family PJ's. Michael was sweating to death and Graham spit up on his immediately.
And Micah didn't quite grasp the concept but he was SO EXCITED to take a picture with us!
"Christmas morning" was on the  23rd but it sure felt like the real deal making them wait to go downstairs just like we had to when we were kids!
It's surreal to see our kids waiting where Emy, Corey and I waited every year!
We told them to close their eyes and I was rushing and mis-shot this but I kinda love it!
Seeing their giant OLAFS!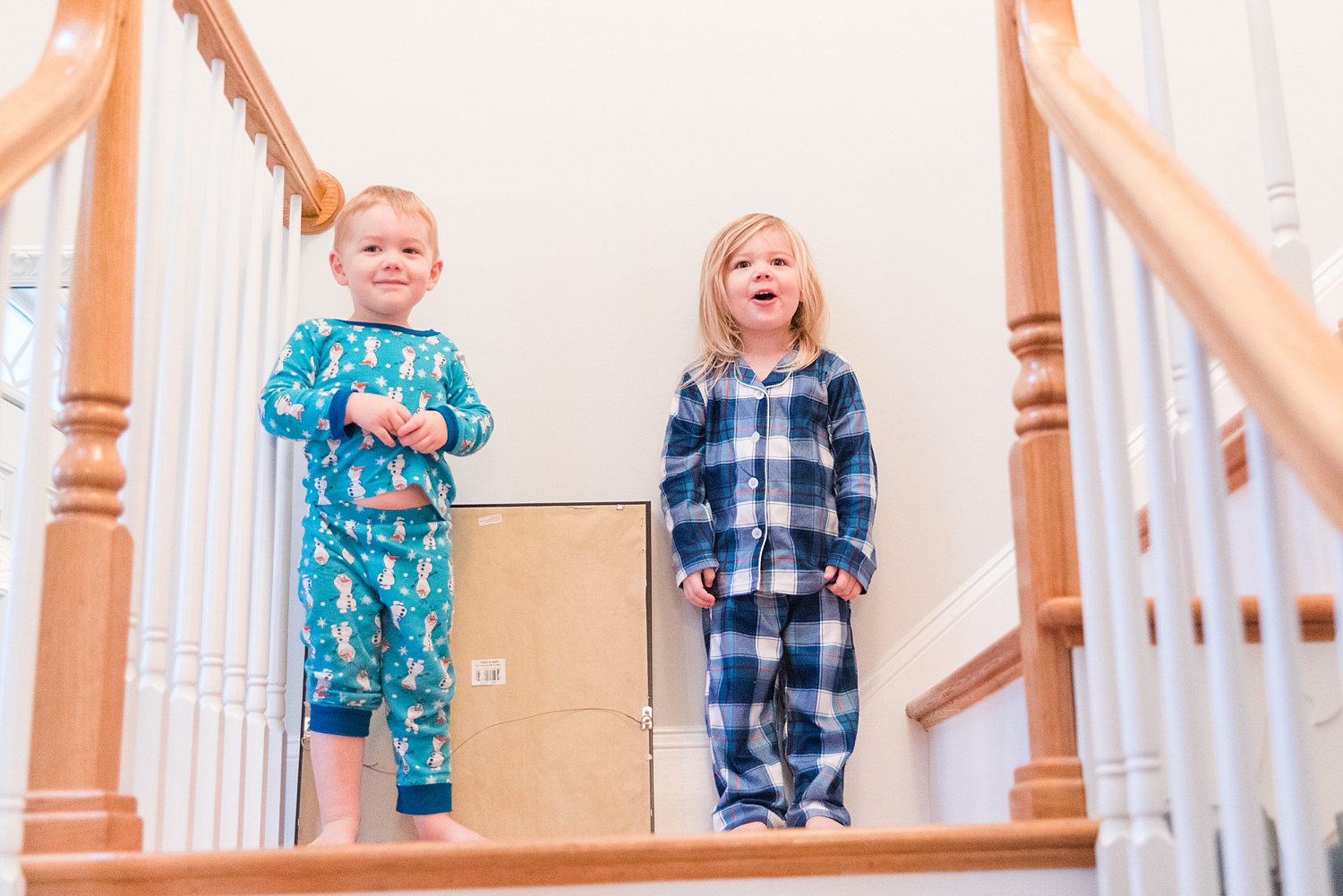 She looks beautiful and GROWN UP! And he is such a little nugget!
Getting her first fake MAKEUP kit from Aunt Momo!!!!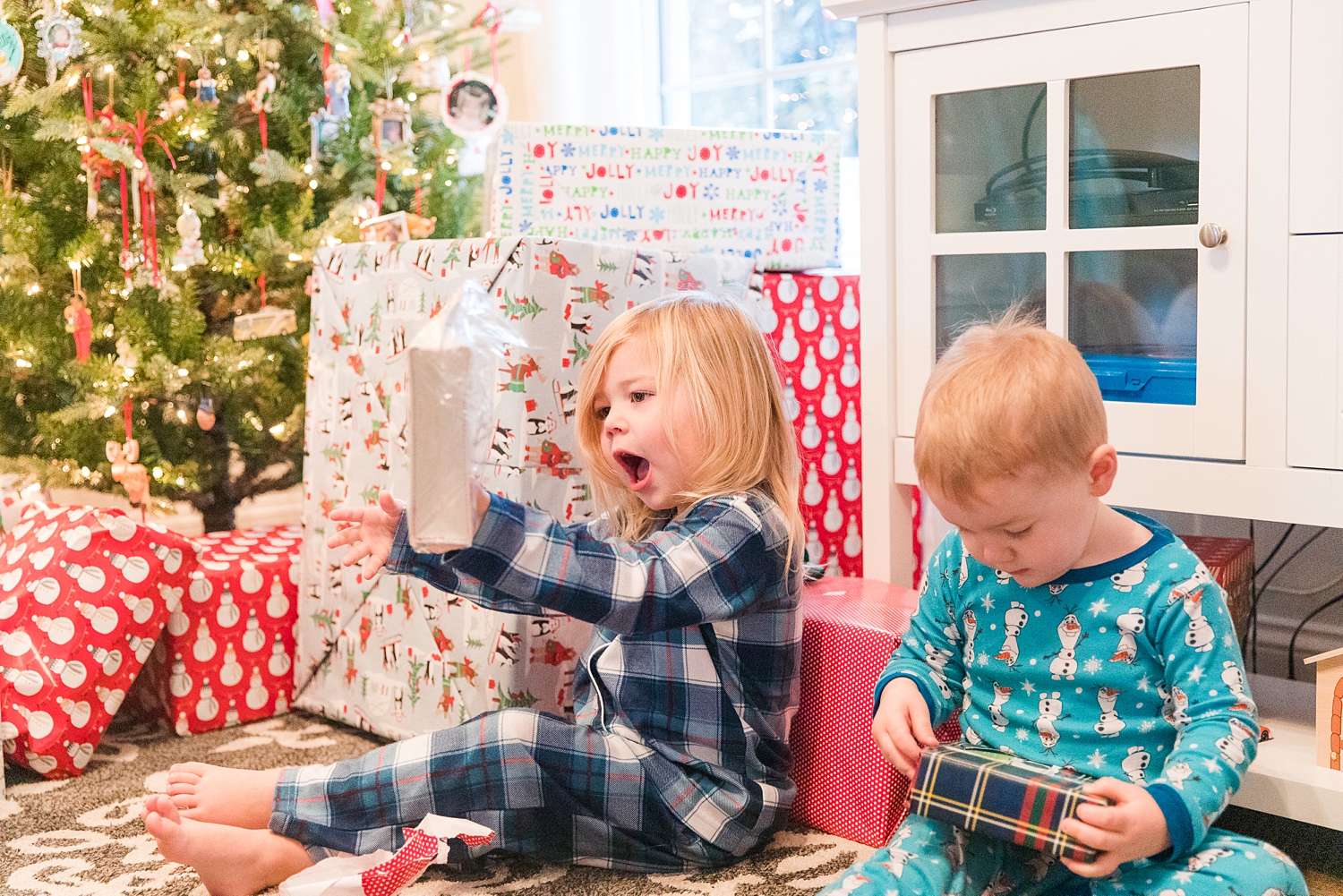 The babies' first Christmas!!!!
Harper's first baby doll!
Poor thing…. I swear she loved it!
Queen Elsa lived in this dress ALL DAY! And everyday after.
Then grandaddy won "Best Christmas Surprise of 2019″…. maybe even the DECADE….
He made these barrel cars on handcarts and the kids were AMAZED!!!!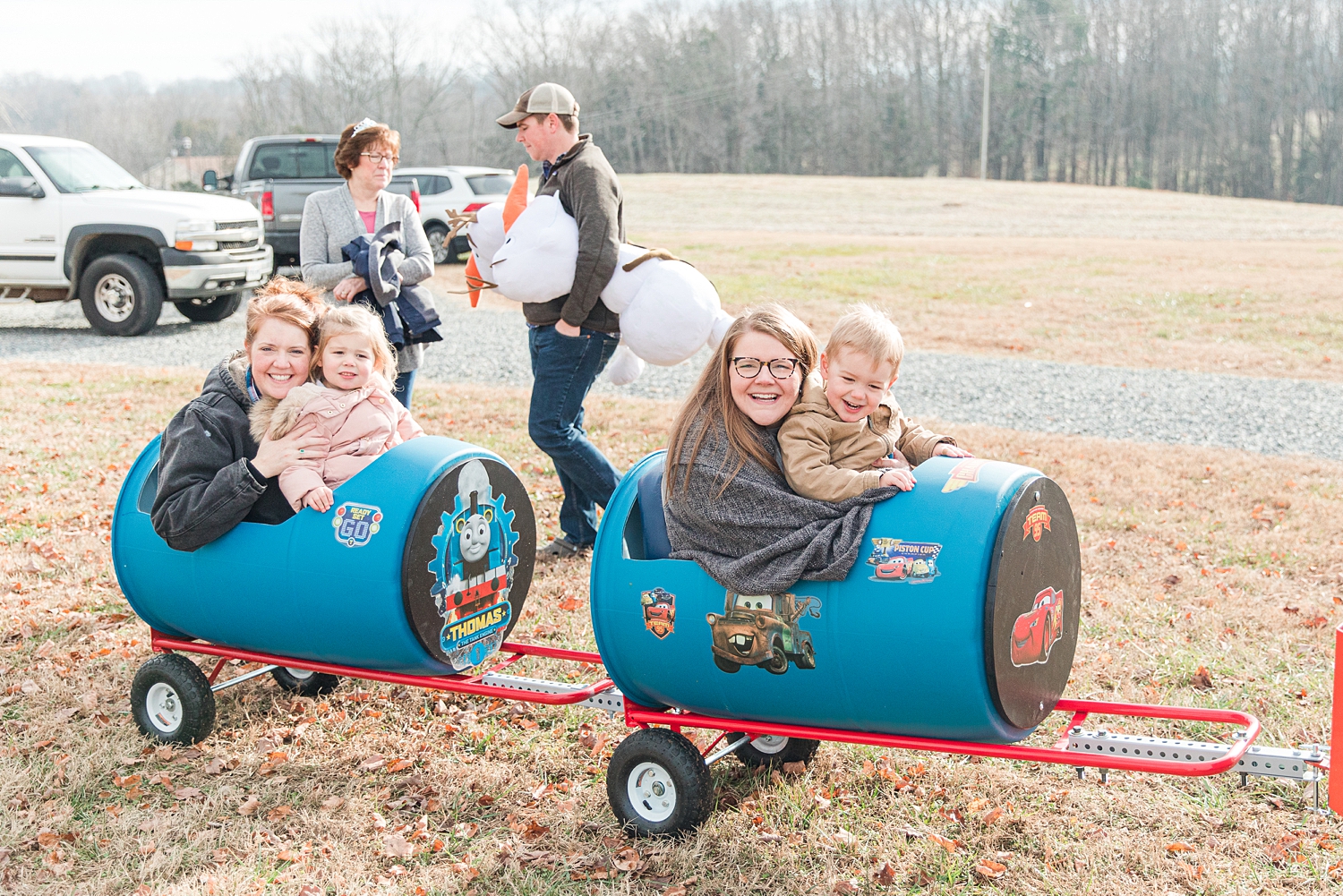 Oh. my. goodness.
Our annual family picture!
Oops.
Then we headed to Grammie and Paw's on Christmas Eve!
Checking everyone's heart!
Princess Ana! It came in a two-set but lets put it this way…. she hasn't  worn this since this photo was taken. She's ALL about ELSA!
This picture is magical to me. I can't believe they're mine.
Oh my goodness.