And out of my 80+ weddings, this is the option that I like the best… and it's what I chose to do for my OWN wedding!  I had the cute pair of heels that were photogenic and look great on an album spread… and then I had some comfy flip flops waiting for me at our reception!! …. Actually, I remember quickly running into our house (because our reception was in my parent's backyard!), running up the stairs and rummaging through my "shoe bin" from high school, trying to find some flip flops that wouldn't cause more blisters!  It was probably a hilarious sight….. Katelyn running up the stairs in her dress, throwing old shoes out of a bucket while 400 people were waiting on her outside! ha! I eventually found my favorite flip flops and NO one knew that I had called it quite on the heels. HOWEVER, the fabulous thing about this option is that I still have a pretty "shoe" shot for my album!! While I didn't wear my teal heels the WHOLE day… or even half the day!…. it sure does look like I did!
So if you're not excited about wearing 3 inch heals for 8 hours…. I totally understand!  Have a backup plan! However, it may still be fun to have a cute pair of heels for the sake of pictures and album spreads! So many of my brides have gotten creative with their wedding shoes and I think they all would agree that COMFORT is worth it! …  This first shot is of MY wedding heels and then a shot of what they look like in our album!
And here are some shots of my bride's shoe choices!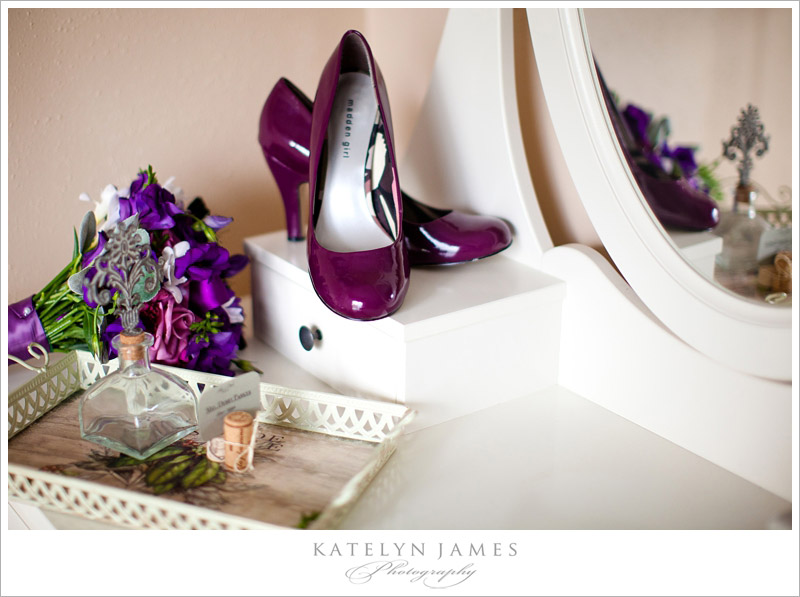 Modern and comfy!
Red and Bold!
Good taste Brit!!
Duh, of course I love these….
Love!
Comfy and "height" conscious!
Bling bling!
Yeehawww!
Katy added those little bows!
Simple but classic!
LOVE these Jcrew heels!