A few weekends ago I had to alter the wedding day timeline in real time because the weather was throwing us a curve ball! So, I want to walk you through two different real-wedding-day scenarios and share what my thought process was!! :
BRENT + JENNICA:
Brent and Jennica shared a first look on their wedding day! Their venue is nestled on top of a gorgeous rolling hill (Shadow Creek Weddings & Events) but there isn't very much shade during the afternoon hours. So, the owner was gracious enough to let us drive over to her house and use a shaded spot in her backyard for their first look! This was perfect because it was private and they had extra variety! I knew in the back of my mind that we would save the "wide open, rolling hills" portraits for golden hour!
**SIDENOTE: I explained this to Brent and Jennica because I didn't want them to think "Wait, we picked this gorgeous venue and you're not even going to capture the rolling hills?!". My couples trust me and so I doubt that they would think that but I wanted to cover all of my bases and reassure them that those portraits were coming later! ALSO…. just a little tip, if you explain this early on, it prepares them for more portrait time later and it won't be a shock when I ask to pull them out of the reception because they KNOW what's going on and why we need these extra portraits! **
However, (this is the stressful part)….. their ceremony was perfect but as soon a they recessed, I glanced back at the sun and there was a MASSIVE band of heavy, thick, dark clouds moving in. I had no idea how long this band of clouds was going to last but it looked like it was setting in for good. So, in a split-second, I had to decide whether or not to pull them directly into the field and shoot in rapid-fire mode before the warm light was gone or should I let them hug and celebrate with their friends and family who were still recessing!? Ugh. I hate making these calls because what if I make the wrong one!!! Well, my thought process was:
– I know they love pictures…. they invested a lot in these images.
– They already know that we need some "rolling hills" portraits
– If I show them those dark clouds and explain that this may be our only chance, I think they'll appreciate their portraits more than some hugging shots that we could capture at any time.
– Because of my "Posing Evolution" approach to posing, I could get a lot accomplished in just a few minutes!
So, I went for it! I told Michael to run in and tell Ashley (our amazing planner for the day!) and she was completely fine with me holding off on family formals in order to take these portraits!! We captured just enough portraits to make me feel at ease before the clouds took over. We were able to do family formals very quickly and then we headed inside. About an hour and a half later, the skies were clearing. There wasn't a "glow" but it was noticeably brighter. So, we asked Brent and Jennica if they wanted one last set of portraits since the sun was setting and the light was fading. We took a few more and we left their wedding with so many amazing portraits of the two of them! I had no idea that the sun was going to peak back out later on and so I think I made the right call early on. I had to tweak the timeline in a flash and thankfully, because we work FAST and because we had an AWESOME planner, it was completely fine!!
YOU CAN VIEW THIS WEDDING HERE!!
JUSTIN + MEGAN :
This wedding took place just two days after Brent and Jennica's wedding! It was at the gorgeous Big Spring Farm which is my favorite Lexington Wedding Venue! The rain just wouldn't let up. It sprinkled during the ceremony and we had been watching the radar like a hawk. As soon as the bride and groom recessed, we flew through family formals and then we checked the radar. The bride and groom really wanted to be a part of cocktail hour. I totally get that. I wanted to be a part of mine too!! However, we were stuck between a rock and a hard place because the radar was not pretty. We had about a 20min patch of clear skies before the torrential downpour was going to hit us!!
Another issue was that cocktail hour was going to be outside on the patio and the reception was inside the barn. If the rain picked up, and everyone needed to go inside, then I wouldn't get "untouched" reception shots! All of a sudden I was responsible for capturing the reception decor AND all of the rest of the Bride and Groom portraits in a matter of 20mins! So, instead of asking the bride and groom what they wanted to do, I realized that this was a moment when I just needed to execute what I knew would be best. I did this in a gentle way. I explained to Megan that she should rush up to the house, put on her second dress (that was a surprise to Justin!) and then meet me at the barn so that we can drive up to the mountain view locations for her portraits before the heavens let lose! I told her that we had about 20mins before we lost our shooting opportunity!! So she rushed up the hill and then I quickly shot the reception before she returned!
SIDE NOTE: I had already shot the tight, vertical shots of the centerpieces before the ceremony so that all I had to do post-ceremony was set up my OCF and shoot the WIDE shots of the barn and a few medium-tight shots of a few tables! Michael had told me that the rain wasn't looking good for the rest of the day and so I though through what rain would mean for the cocktail hour and I went ahead and took those detail shots!
So, I made the call to move "sunset portraits" up by about an hour and a half and I'm SO THANKFUL that I did because literally, by the time it was time for introductions, it was POURING! We wouldn't have had ANY portraits of Megan in her second dress if we hadn't asked them to cocktail hour and move their sunset portraits up! They had a long reception and had a ton of time to dance with their friends and family and so I doubt that they regret missing some of cocktail hour! We were proud of our rain-call and I'm so thankful that we were able to take those portraits of them!
Maybe it's just me.. but I don't think that you can even tell that it was raining on this wedding day!!!
YOU CAN VIEW THEIR WEDDING HERE!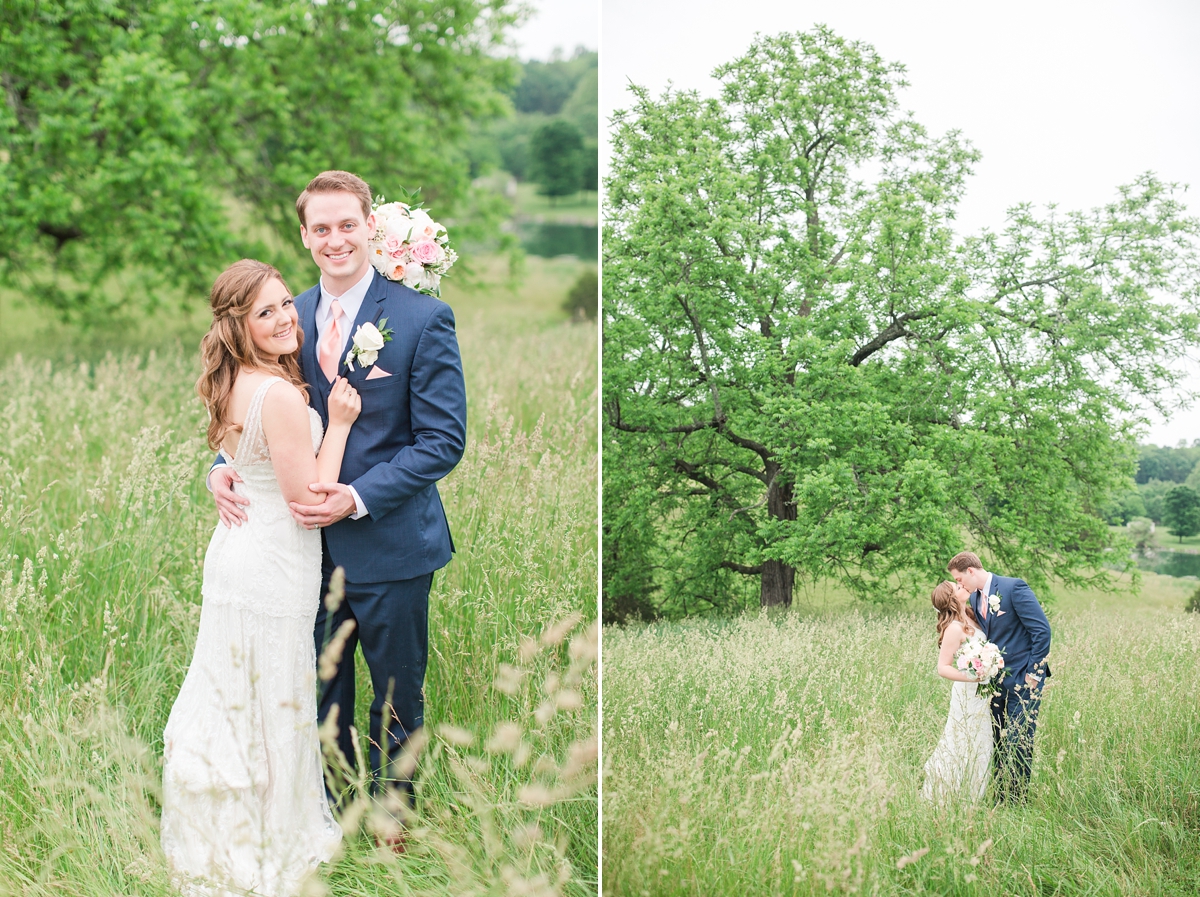 THOUGHT PROCESS RECAP :
– Think about what the game plan for the WHOLE day is going to look like so that you're not blindsided later.
– Have a GREAT weather app that gives you hour by hour updates for your exact location! Tyler Herrinton  showed us the app "Dark Sky" and it's AWESOME! 
– Educate your couples on your thought process and if it's an emergency situation, just make the call for them! Sometimes too many options can add stress and they would prefer just to be told what to do! Read your specific situation and gauge what would be best!
– Respect the Planner! If this type of decision making isn't done with a certain level of respect for the planner, it's not going to end well for anyone. This is why you need to care for the other vendors well. If you start out the day on the wrong page with your planner, I highly doubt that they will be in favor of changing their timeline for portraits! Respect the coordinator and keep them in the loop!
Whew! Now that you have read my NOVEL, I just want to remind you that we are working on a VERY special project… The KJ Posing Course!!!! It will be released in late summer or early fall. If you're interested in being a part of this course, we are delivering a FREE Posing Mini-Guide to anyone who joins the waiting list!! You can join the waiting list HERE!!
Check out other Thought Process Posts:
Lens for Reception Details & Bride Getting into Her Dress
To download our FREE RESOURCES click HERE!