It will be easier to reference back to if it's in the Wedding Wednesday category because this series is for my BRIDES! This post is meant to be a helpful tool for planning your outfits for your engagement shoot! Please don't think that you need to apply EVERY tip and trick, that's not true. Just view this post as a guideline to help you make outfit decisions that you'll end up LOVING! I did a similar post back in 2011 but since it's 2014, I figured it was time for a new one! This post is all about outfit planning, THIS POST will help with general engagement session prep and I highly recommend reading it as well!
So here are my TOP TEN tips and recommendations for making decisions about engagement sessions outfits! Enjoy!
1. Most of my couples have two outfits for their engagement session. One outfit is normally on the dressier side and one outfit is more relaxed and casual.
2. Coordinating doesn't mean "matching".  Wearing the same color in a different shade is actually more ideal than trying to find the EXACT color purple!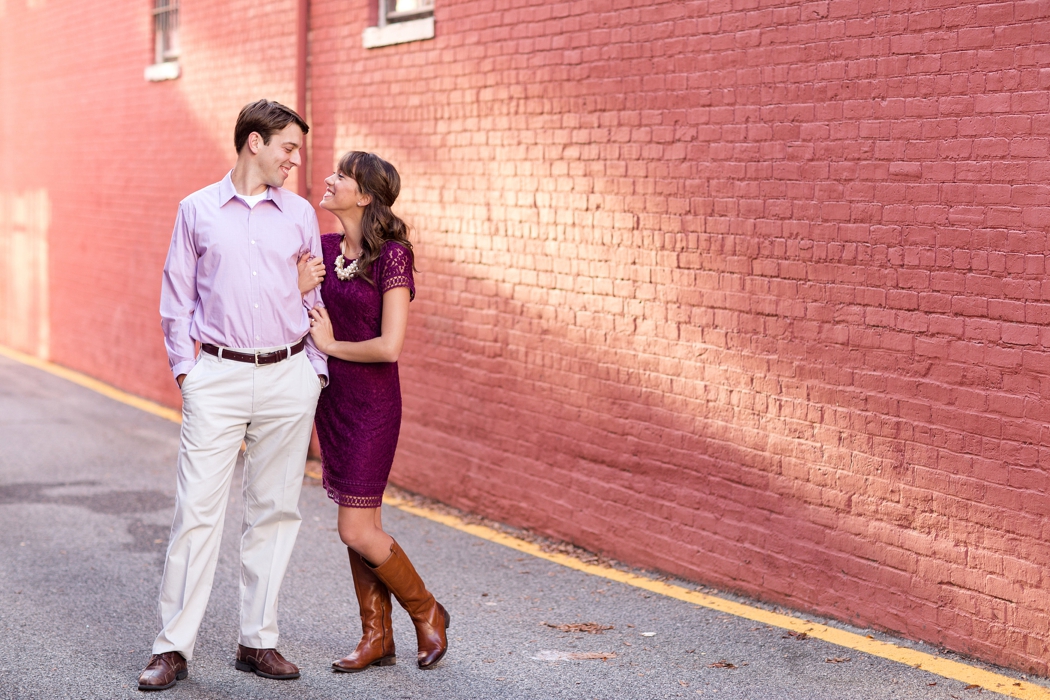 3. If one of you is wearing something with a lot of color and pattern, sometimes it's best to have the other person wear a neutral! 
4. This is just an idea! Take it or leave it! Some couples plan their attire to coordinate with their wedding day so that their Save The Dates match the wedding theme and decor! 
5. Don't over think it! Some of my favorite outfits have been when the guy is just wearing a simple colored v-neck! 
6. Make sure you are equal when it comes to how formal your attire is. If the bride is wearing a little black dress…. the groom probably shouldn't be in shorts and tennis shoes. :)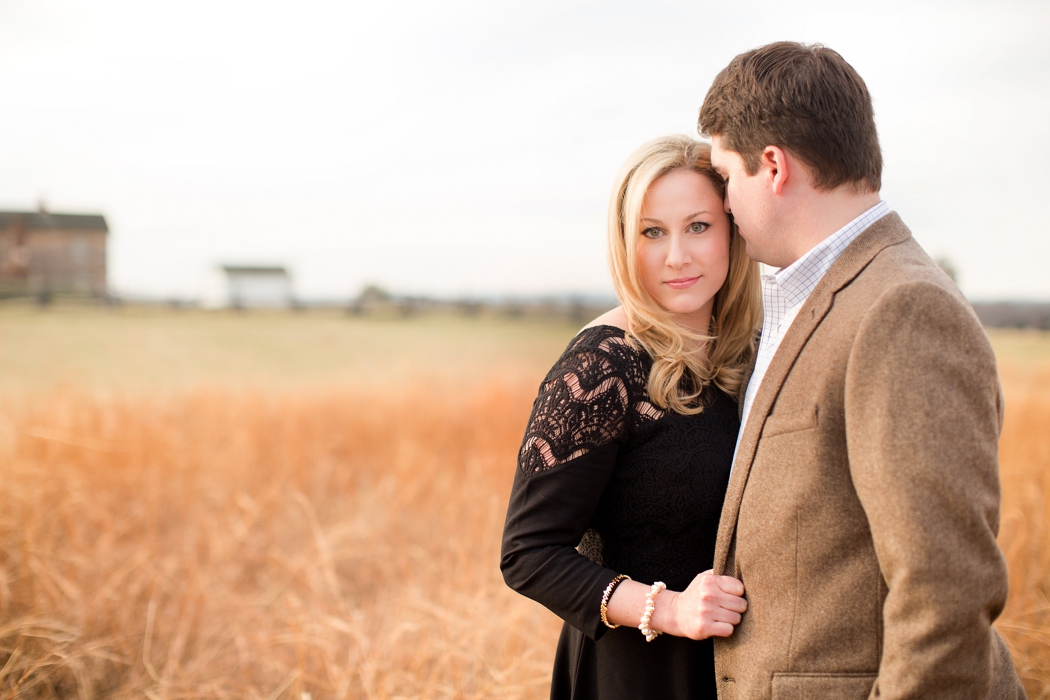 7. Don't be afraid to be yourself and wear something that is unique to you! It's great to wear a dress with a cardigan…. that's probably what I would wear!… but if you have a unique style, be sure to show it off! Some of my favorite engagement shoots have incorporated my couple's unique style!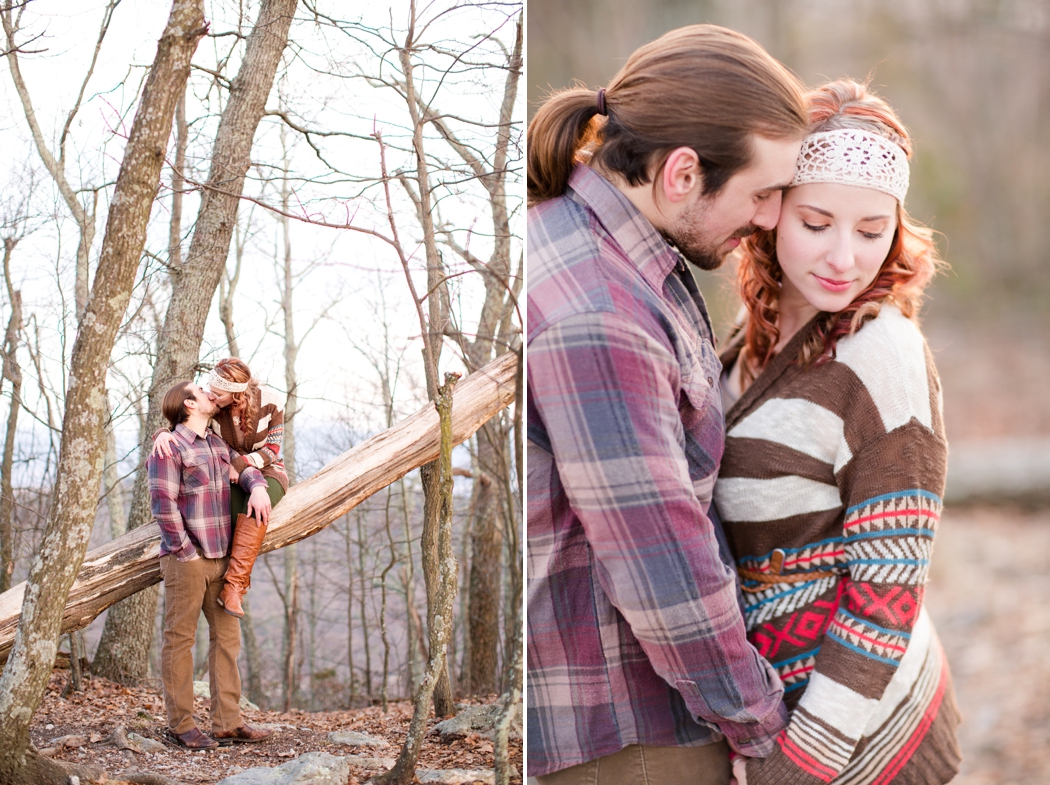 8. If you're wearing plaid, the bigger the better!! This is just a personal preference.  I probably feel this way because Michael dresses like a southern boy and wears large plaid button-ups constantly. However, it is true that larger plaid photographs better than tiny little checkered patterns. It would be better to have a solid dress shirt than a shirt with teeny tiny patterns. The camera can't pick those tiny patterns up from far away and that can sometimes result in Chromatic Aberration. 
9. Accessorize! Scarves, necklaces, belts…. I love them all! They can add so much to an outfit!
10. Last but not least, this is a tip that I highly recommend paying attention to: Wear attire that is flattering to your figure and your skin tone.  It seems like common sense but I'm guilty of this all of the time. We all know that everyone has certain things that look GREAT on them and certain things that aren't really made for them. For example… I'm pale… because I'm a redhead. I've accepted it… I know that's never going to change… and because of that, I also know that wearing a strapless, pale yellow sundress for a portrait session is NOT IDEAL! I also know that I personally never LOVE the way I look in pictures in sleeveless shirts. Why? I don't know! I'm fine with my arms…. but I just don't like that look! So if I were to have a portrait session with Michael… I wouldn't wear a sleeveless shirt. It's a compliment to say "Oh, well Katelyn will make it look amazing"…. but the truth is, if you don't like the way you look in stripes on a normal, day-to-day basis, you're not going to love the way you look in your images that I take. If you're self conscious about your legs, don't wear a mini-skirt. If you're self-conscious about your arms, it's probably not smart to wear a tube top…. not that those are even "in" anyway (thank goodness). Bottom line, make sure you wear something that you're comfortable in. Sure, I'm going to teach you how to pose in super flattering ways, but you'll love your images so much more if you wear an outfit that you're comfortable and CONFIDENT in!! Confidence photographs well!! ;)