that is always a classic option! However, there was one wedding in 2009 where the sparkler exit ended with the fire department at the venue!! haha That was at a friend's wedding and I'll NEVER forget that exit! Sparklers are great for pictures as well but I will tell you, from a photographers perspective… they make us NEROUS! I've almost gotten fried a few times!  I guess that's just the price you pay when you're a wedding photographer! It's risky business!!
Anyway! There are so many fun things that can be done for an exit! Some venues have rules about what can be used but for the most part, anything biodegradable can be an option! Here are some sparkler shots from the last year or so and some other neat ideas to incorporate into an exit! (Some are messier than others!)
Some classic sparkler exits!
Bubbles anyone?!
Fruity Pebbles! At least they taste good!
Boat exit? That doesn't happen everyday!
Silly String… talk about MESSY!! …. But so much fun for pictures!
POPCORN!!!!
Some more sparklers!
A cute dog is always a good choice:)
You can see the CHAOS of OUR exit! We were COVERED in birdseed! But I also made some RIBBON TWIRLERS to make it more exciting!:) Thanks Jessie for the pics!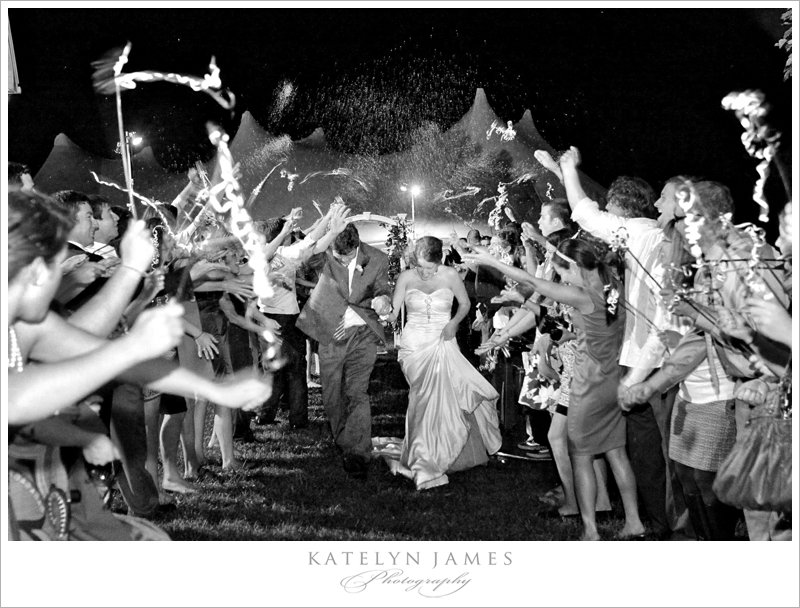 Last but not least… I still think this is my all time favorite! GLOW STICKS!!!
If you've seen some CRAZY exit ideas, leave and comment share it with us all!!!