didn't get updated and editing didn't happen (this IS my day off….so it's probably a good thing that I didn't spend all day at the desk… Michael would have fussed at me)…. I feel accomplished today!
.
So our living room is ALMOST complete as far as decorating goes! We have one piece of furniture that is taking 15 weeks to come in (Come ON Crate and Barrel, really?! 15 WEEKS?!).  Anyway, at the end of January we will have a round, leather ottoman in our tiny living room and that room will be done! I'm trying to be patient and WAIT to show the house on the blog until we are done decorating… but if you know me at all… you know that I'm NEVER completely done decorating! I love it and every time I enter Pier One….something classy catches my eye and I leave with something decorative that I didn't need. It's a sickness… it is.
.
Another thing you may know about me is that I have an almost creepy obsession with teal and peacocks! Soooo…. of course we were going to incorporate both into our Christmas decor! Our Christmas tree is decorated with ribbon, pearls, and peacock balls that were used at our wedding! We filled in the rest of the tree with some classic silver ornaments and teal balls from Pier One and Crate and Barrel. So even though this is only a little peak of our home, it shows that we're in the Christmas spirit!!!! Enjoy!
.
Don't judge… ALL of those frames actually have REAL pictures in them now (Wendy, you'll be proud!:).  I'll be sure to show the walls later on after the holidays!
All I did to add a little height on the mantle was wrap a few books in some silver wrapping paper!
Stockings!
Recognize that furniture piece?! Yup! It was at the front of the church for our wedding ceremony!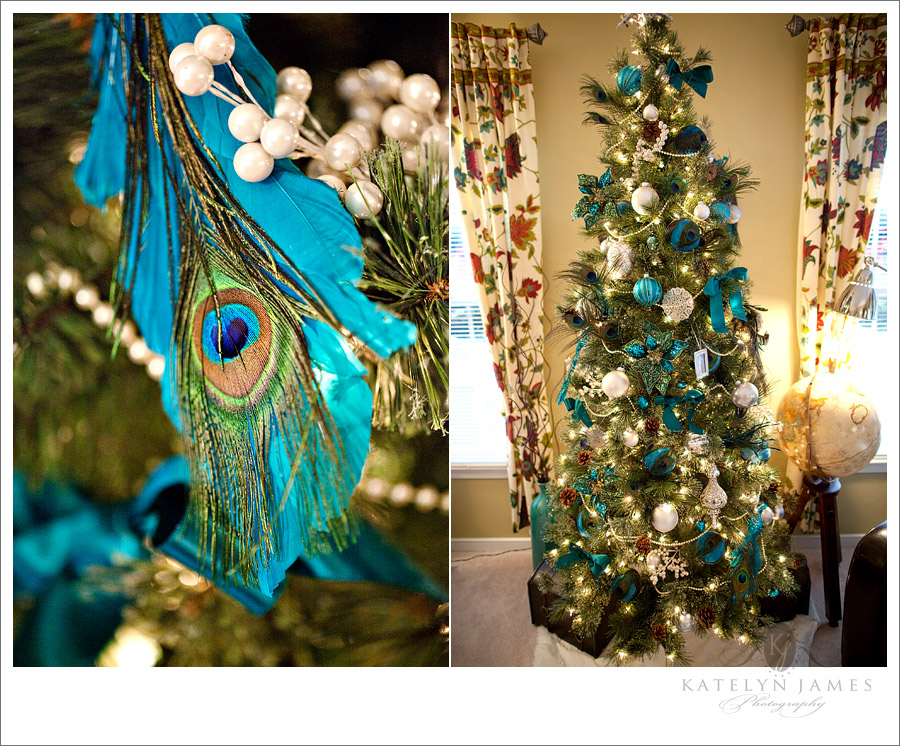 And here's the exterior all lit up at night!!! Yay Christmas!! If it wasn't weird, I would leave wreaths and spotlights on the house ALL year!