I knew I needed to have something to send to my brides when they booked with me. I wanted it to be educational, helpful and personal. I love the idea of mailing a wedding magazine to brides but a standard wedding magazine that comes off of the shelves from Barnes and Noble isn't from me! I wanted to send them something that would educate them and help them plan a wedding that made for a GREAT photographic experience! People ask me all of the time, "So how do you take so many bridal detail shots?! Does your bride have all of her details waiting for you? How do have so many portraits of the bride and groom?" …. It all stems from educating your brides. We have found that even though we have blogged DOZENS of "Wedding Wednesday" posts for our brides, the Bridal Guide is most effective form of education!! One of my favorite stories from 2014 was when a bride wrote this in her timeline:
"2-2:15 : "The Window Effect" Time"
I honestly didn't know what she was talking about and so I asked her! She said "Oh you know, page 14… "The Window Effect!". Hilarious! I loved it! She read her Bridal Guide and built in bridal portrait time into her timeline!! That's a sure sign that the Bridal Guide is working!
So not only did I finish my own bridal guide with 40+ pages of content plus several pages to display portfolio work….I created a TEMPLATE! So now ALL photographers can have their own bridal guide! AND! It's not just the template, you can purchase the content as well. Now you will need to make sure you customize it a bit but overall, the hard work is done. I have been so relieved and encouraged to hear that other photographers are finally getting their bridal guides accomplished because of this template!!!  I know how GREAT it feels to finally have a magazine done and ready to ship out and so I'm so thankful that others are able to feel the same thing!!
Speaking of other photographers who are finding the Bridal Guide handy, here are some working files from Abby Grace!!!!!! I can't wait to see what these look like PRINTED!
And this is a PRINTED guide from
Brianna Venzke!!
! I just love her style!! It's so fun to see other photographer's images in our template! They look amazing!!!! 
Gah! Look at that timeline page!!!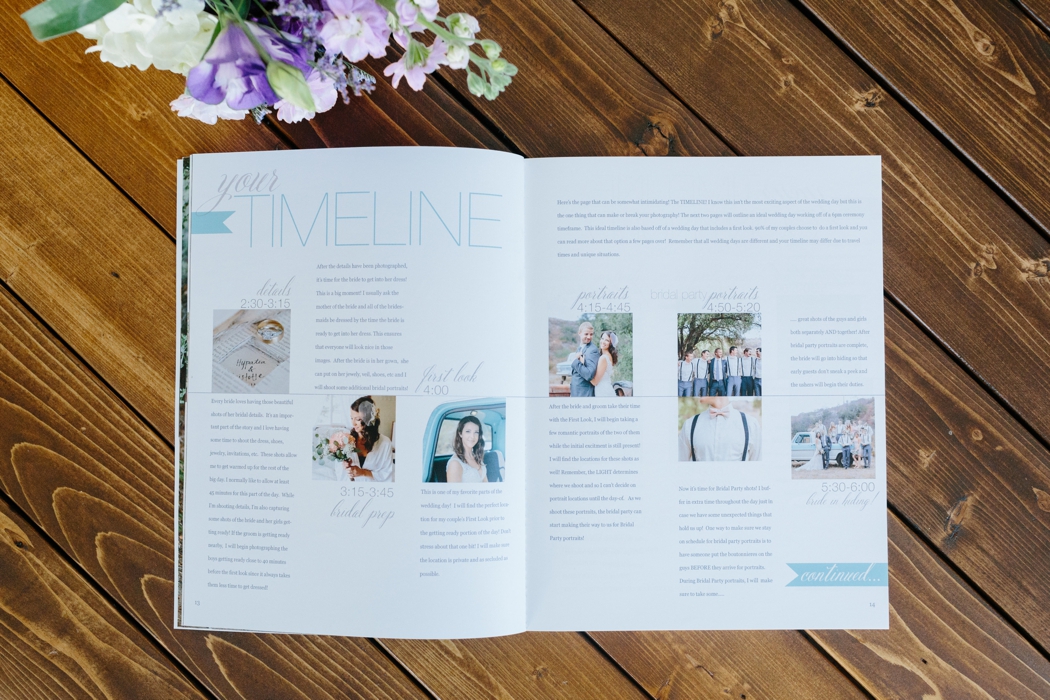 So gorgeous!! 
There are two options for purchasing the Bridal Guide:
1. The Bridal Guide PDF : You can purchase the PDF as if you were a KJ Bride and have a digital copy of your own!
2. This is the way to go! You can actually purchase our ENTIRE Bridal Guide…. content and all! This means that if you want to educate your brides like we do, you can! Just insert your own images into the magazine template, make a couple wording tweaks here and there and you're done! There are over 40 pages of educational content included… not to mention a beautiful design! (If I do say so myself!:)
Get something DONE during your off season and start your bridal magazine HERE!!!