reading?? Well, first of all, let me say this…. if you have 40 people reading your blog, those 40 people deserve your best. They don't HAVE to read through your posts, they choose to. Everyone starts somewhere! I started with about 70 hits a day in college when I first started blogging. I know my mom and sister refreshed it so that it would increase my confidence but the reality was, I was DETERMINED to make this work. I had no other option! I didn't have money for advertising and I didn't want to do bridal shows so I had to market myself through my blog and build my audience that way!
Over the years we have grown from 70 hits a day to THOUSANDS of hits per day…. and this wasn't because I was "lucky"…. it's because I have been consistent. For 6 years I have consistently blogged almost every single weekday. It's a lot of work… but as my blog stats have grown, so have my prices. I'm building up the KJ community and the value of my business with every post… even the ones about my DOG! :) He's our little mascot!
I could go on and on about WHY blogging should be a part of your business but I'll save that for another post. Today I want to give you some advice about how to get people involved!! The BEST advice that I could give ANY blogger would be to share YOU! It sounds cheesy and overused but it's so true. You have GOT to give people something to get attached to!! If you JUST post images from shoots, you are telling the world that you're JUST a photographer… and that's not true. At least I hope that's not true! If the ONLY thing you have going on in your life is your job, you need to re-evaluate! I'm so much more than just a photographer and my fans deserve to know that about me! What I've found is that that more I share about ME, the more my audience gets attached to me. Why does this happen? Because people follow people who are RELATABLE. A large majority of my audience aren't photographers… so if I ONLY posted about my photography, I would be lacking in several other areas of connection!!
Ohh there is so much to share about this! But I'll just leave you with these few tips!!:
1. Show more than your work… share your LIFE! You will become more authentic and more relatable to your blog readers and that's an attractive quality.
2. Be consistent!! An engaging blog is SO POWERFUL, an inactive blog is DEADLY. I'm serious. If you can't blog more than once every three months… I would take your blog offline until you can commit to a blogging schedule.  What you're telling the world is "I haven't worked in 3 months!"… and that's probably EXACTLY the opposite of the truth… but it's the perception you're presenting when you have a dead blog.
3. Share stories they can FOLLOW!! Share aspects about your live that will get people attached! For example, when we built our house, we were VERY strategic with our house posts. We didn't over-do it because we wanted to keep people engaged and interested. So we didn't show the inside of the house until we moved in! And the "House Tour" post was our BIGGEST blog day EVER!!! 10,000 hits that day!!! Why? Because we built up a continuous story and people loved following along!
One last example I have of this is from my friend Katie Nesbitt! She announced months ago that she was training for her first FULL marathon. She instagrammed her progress… her good days, her bad days…. the days when she wanted to give up and the days when she impressed herself with her run times. She showed how this training took a toll on her body and she didn't shy away from how much of a struggle it was at times. So fast forward a few months… and it's RACE DAY!!! For months, I have watched this sweet friend of mine prepare and as I saw her updates the day-of, I felt like I was a part of her progress!! I saw updates that stated "Katie just passed mile 7" …. "Katie just passed mile 13" and I was cheering her on the whole way! I commented on her statuses and her updates because I felt like I was a part of the story!! It almost shocked me how invested I felt…. I'm not a runner but I loved this!! This is the PERFECT example of sharing a continuous story that people will get attached to! (ps. You may remember these two from THIS shoot!:)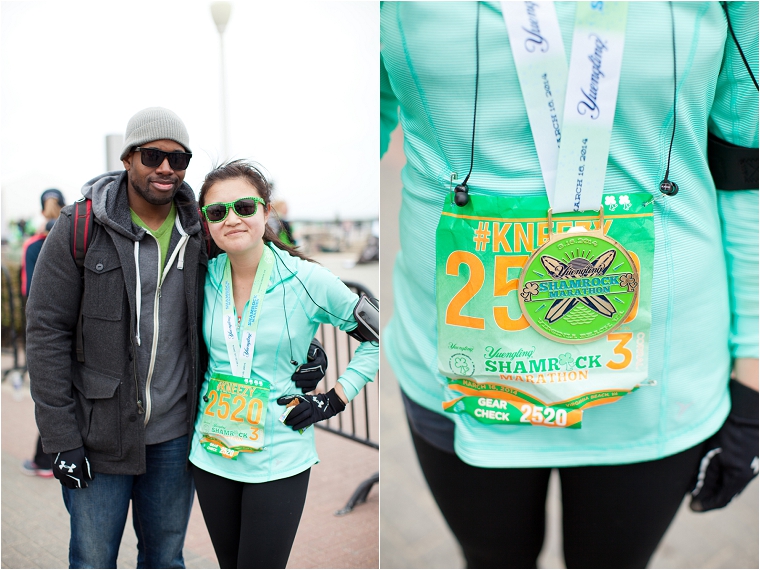 It doesn't have to be a marathon or a house building project… it could be as simple as planning a vacation and then sharing updates from the road… or re-doing an old piece of furniture and then showing the finished product… or a weight loss journey…. or new pet entering the family. All of these things are relatable and people love following these journeys! I do think there needs to be a BALANCE between personal and business posts… but don't shy away from sharing more of who you are BEYOND your business!!! Happy Wednesday!!