I tried helping with the taping process but he was just better at it so I let it become his baby. I came up with the idea, he made it happen. That seems to be a theme in our life! So after one night, one day and one trip to ikea, our foyer had a massive makeover! Enjoy the before and afters!
And so it begins! 
Doesn't he look thrilled?!!
The laser level saved us! 
  And the final product!!!! 
So we used hints of teal and mint in the foyer because when you walk in, you see the foyer and then immediately see my teal office and it all flows nicely! My FAVORITE view of the new foyer display is from my desk!! 
One of my favorite wedding pics!
The stripes continue all the way to the living room!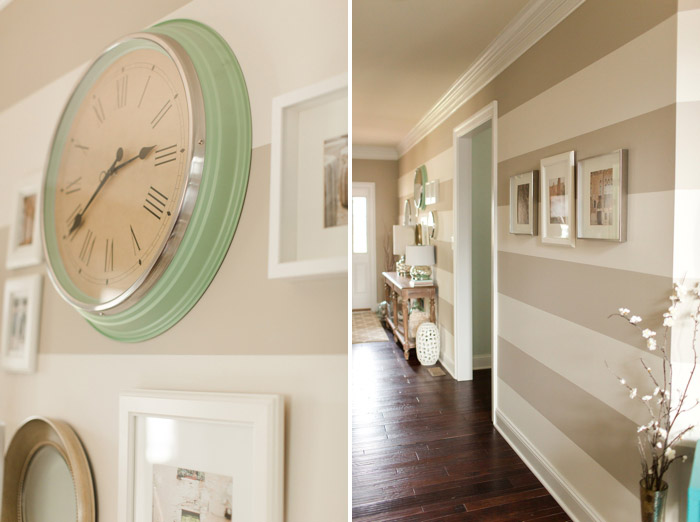 They even wrap around the corner and I love it!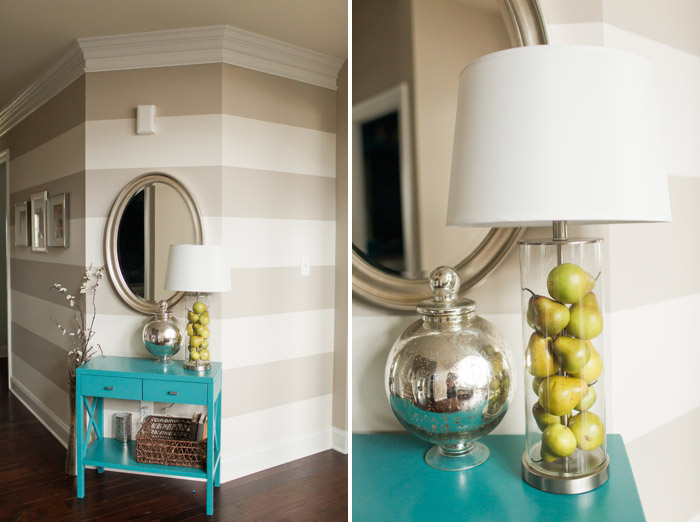 Love this view of the foyer from the living room!
Here are the credits for as much as I can remember! : Paint Color | Sherwin Williams "Amazing Gray" and the white stripe is just two shades lighter than the Amazing Gray The clocks: IKEA The Table : The "Everett" table from World Market Lamps: Homegoods Frames : IKEA Baskets : Homegoods Vases : Homegoods "It Is Well" sign : Hobby Lobby Teal Table at corner of wall: Target Filler Lamp: Target Mirror: Who knows, I've had it for YEARS! Cream pillow | Pier One