We still celebrated Evy's first birthday with friends and family. I honestly had moments where I just wanted to hide and cancel everything but I knew that I would regret that years from now. She's the greatest gift to us and I'm so thankful that we celebrated not only her first birthday but we also celebrated her brother James as well.
During Evy's 12th month of life, she decided that one of her favorite words was going to be "Momma".  She yells it when she can't find me. She says it when I enter the kitchen and then reaches for me from her high chair for a hug. She'll say it just so I'll look at her and say "Yes Evy!". She just loves saying it and it's such a sweet gift to me during this hard season. When she says it, it's kind of divided up into two words: "Mom-MA"! If I had to choose what my favorite part of this season is, it's watching her walk/RUN around the house exclaiming "Mom-MA" at the top of her lungs.
She's FAST. She started walking around the middle of her 11th month but this past month she has started running!!! She's so QUICK!! Sometimes her speed gets the best of her and she lands hard. She's had a few hard falls and some bruises but has yet to experience her first black eye! (unlike her cousin who got in a fight with a coffee table!).
Another important part of Evy's 12th month was that she started SWIM SCHOOL and while her first class wasn't her favorite, she loved it by her second class and now it's a highlight of our week!!! She's learning how to hold her breath under water, how to float on her back, how to climb out of the pool, how to kick and "paddle". Michael gets in the pool with Evy and they have so much fun!!! Here are some things I want to remember about her 12th month! :
She loves the stairs! We now have baby gates.
Evy loves to climb inside of kitchen cabinets with Micah! This happens at least twice a day!
She's getting four molars and they look HUGE inside of her mouth!
She switched to Whole Milk and LOVES having her bottle twice a day. It's the one thing that still makes her feel like a baby to me!
She is obsessed with all of her books! She'll wake up from her naps and just want to sit in her sleep sac and flip through books in her crib. She LOVES that right now!
Her hair has grown so much!! Her little whale tail is so long now! One thing that I love about her hair… even though it can be crazy sometimes, it is growing in evenly all over her head and it's so cute!!! I love doing her hair even though she hates it!
She will drop things and say "Ah-Oh" over and over again.
She's started holding her hands up like "I don't know" when we ask her questions!
She loves anything to the tune of "Wheels on the Bus"
She'll stop mid-bite, mid-run, mid-bottle to dance when music comes on!
Her dancing now included a lot of swaying of the arms and knee pops. It's the cutest thing!
She's extremely loud. When she gets in a "talking" mood, it can be a bit deafening! She loves running and screaming through the house.
Right now I can't get up at 6:30 or 7am with her because I'm still getting sick in the mornings…. but I can hear her calling my name from the living room and it breaks my heart. Sometimes Michael will bring her in an plop her on the bed if I don't feel sick and she'll snuggle.
Her hair looks lighter to me! But her skin still seems very "olive"and I love it!
She's known for her good hugs. She squeezes tight and scratches the backs of your arm while she squeezes. One arm goes around the neck and the other around the shoulder. It's so sweet.
She loves clementines, honeydew, watermelon, bananas, chicken salad on good days, peanut butter, grilled cheese and just plain cheese. Broccoli is sometimes a hit too.
She's wearing size 5 shoes and 12-18month clothes and weighs 23 lbs! Her head is still in the 95%!! She gets that from her daddy.
She is OBSESSED with her Panda. This is the first toy that she's been attached to and she loves hugging him when she sleeps.
Waiting for their first swim class! 
Oh dear… lots and lots of tears. 
The grandparents came to watch! 
It wasn't all bad! 
Cuties! 
Look at Micah! hahahahahahaha
Just three naked babies! These three love being together! 
They love their Mimi!
Ahhh, the second swim class was a night and day difference! 
She loved it! It's like a flip switched! 
Hanging out at their picnic table inside since it's still too cold outside! 
Evy's first Valentine's day!!!! 
Surprise! Evy's first birthday gift from momma and daddy were these gymnastic play mats and these things get used EVERY SINGLE DAY! Morning and night! The babies love them!!!!
Huge thank you to our families for helping us make her party happen after a hard week with our news about James.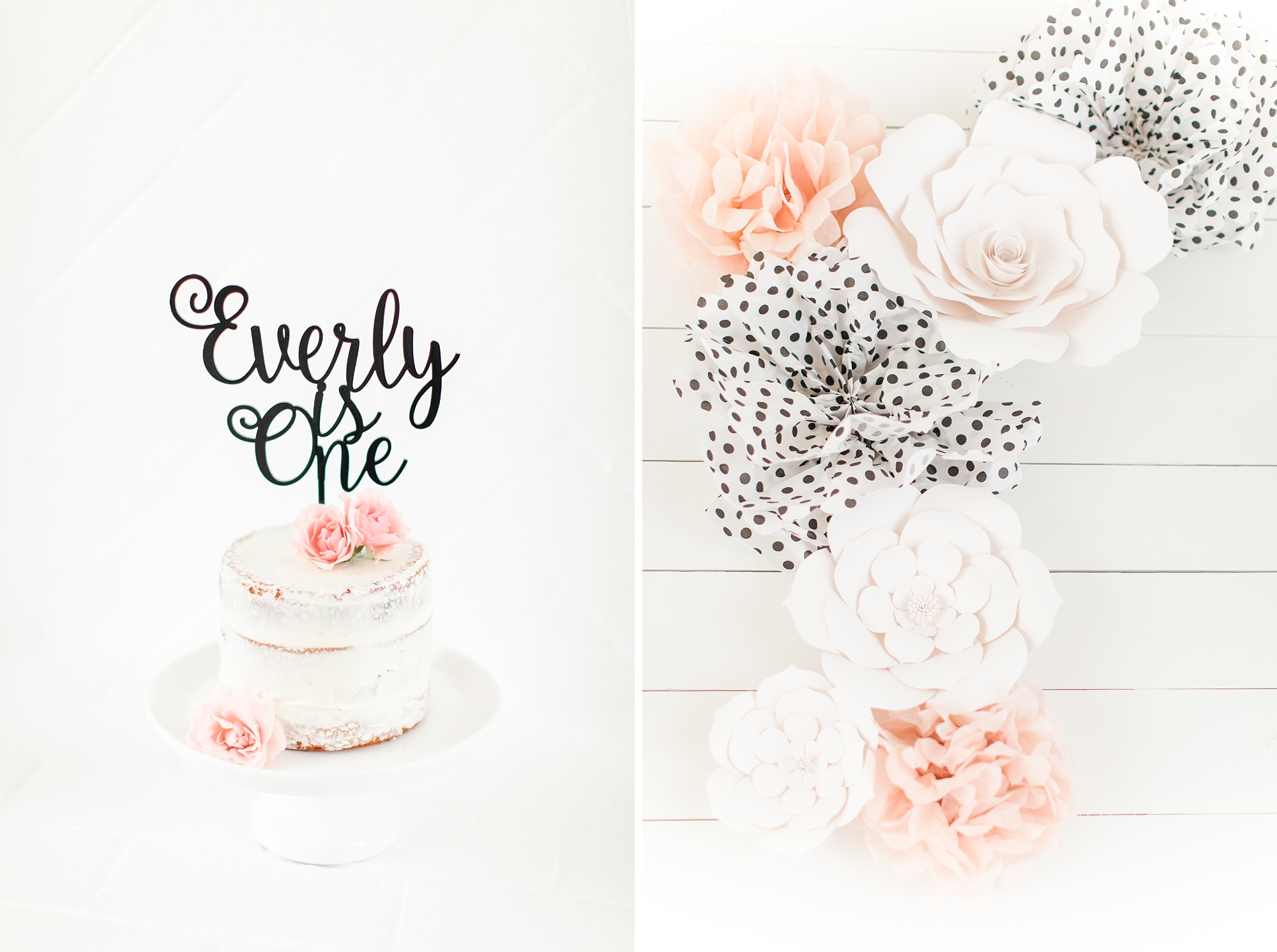 Since it was music themed, we had a sign that said "These are a few of my favorite things!" and we served Evy's favorite food! Grilled cheese, fruit, Ritz crackers and colby jack, Chicken salad on White House Rolls (if you're from VA and remember Ukrops…. you know what I'm talking about here!)! We also served juice boxes and honestly…. we had less leftovers than most events at our house! People love the simple things in life!

Face full of watermelon. 
Our sweet one year old! 
Grammy and Paw gave Evy her very own table and chairs and the babies love it! 
She got so many gifts! We had to open them fast to keep her entertained but she loved it!!!!
A birthday bath because after her cake smash!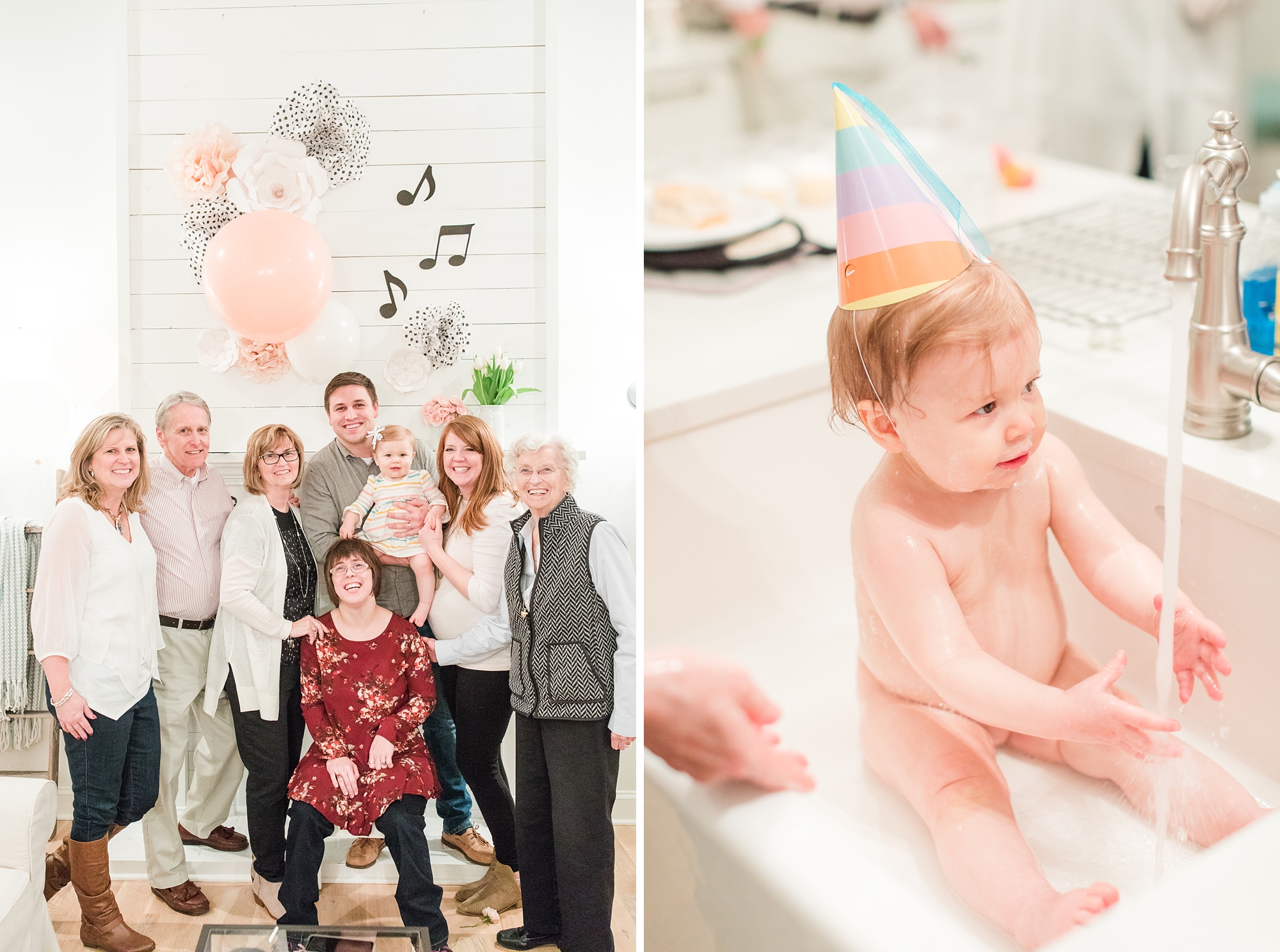 She never really "dove" into her cake like some babies but she did love it! Her daddy baked that cake for her! 
Thank you Jilly for these. I love having some updated family pictures!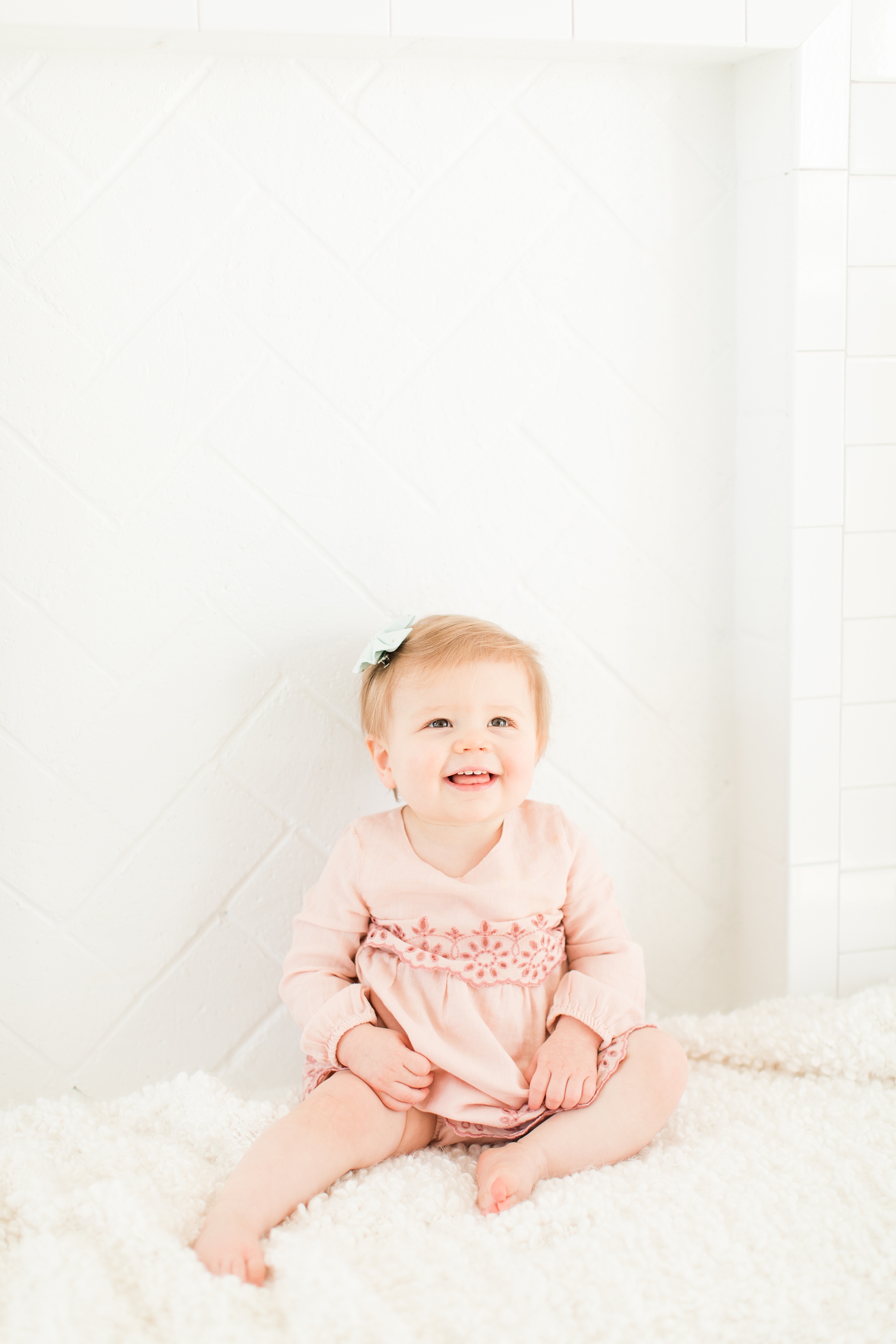 You can't tell here… but I had just had a meltdown because I thought that all of her birthday pictures were lost. (Micah accidentally dunked the CF card in a glass of water!) It's like Evy knew and she gave me the sweetest hug!

We took James to the lake!

I love her wide smile…. she gets it from her daddy.

Happy first year baby girl. It has been hands down the best year of our lives. We love you so much!