However, the last two months since we moved in have been a bit crazy! We went to Hawaii for a week, Nashville for a week, Georgia for 4 days and then on a Cruise for 4 days. Whew! And in the midst of all of that….we have been working on another real estate project that I haven't shared about yet! So, be on the lookout for that story soon! Ps. I HAVE shared a little bit of it on SNAPCHAT. I feel like Snapchat is like my un-official social media outlet where I can share stuff without doing a BIG REVEAL… haha So if you want a little peak of our life behind the scenes AND to randomly see more about our other life projects, here's my snapcode! : katelynalsop 
Now, on to the pretty stuff!! So our apartment has been wonderful! We're so thankful for a space to call HOME in this transitional season of our life! We do miss being able to have the whole family hangout at our house after dinner in Richmond…. but it just makes us even more excited for our future space that will hopefully be our FOREVER HOME!!!
We have a two bedroom apartment on the first floor of our complex! We used our old ikea couch and our guest room bedroom set (also from IKEA) in our bedroom and then two twin Pottery Barn beds in the guest room that stay covered in camera gear and half emptied suitcases… #reallife. So, because our little apartment is currently a hot mess… we'll only be showing you the living room space! We love our little kitchen and our bedroom/bathroom but cleaning it up to be portrait worthy isn't happening right now! :) We use the "dining area" space as our OFFICE and so that means that we eat on the couch and coffee table. Every time we "sit down" for dinner on the COUCH, we remind ourselves that one day we WILL have a kitchen table again!! 😃
So enjoy this partial  home tour of our current space! No curtains…. It makes me sad…. but we really don't need them and I'm just glad Michael let me hammer 8 nail holes for our Hawaiian Gallery wall!!!
Couch, end tables, coffee table, plants : IKEA
Wooden Frames used on gallery wall : WALMART!
Desk : Pottery Barn, Clock : IKEA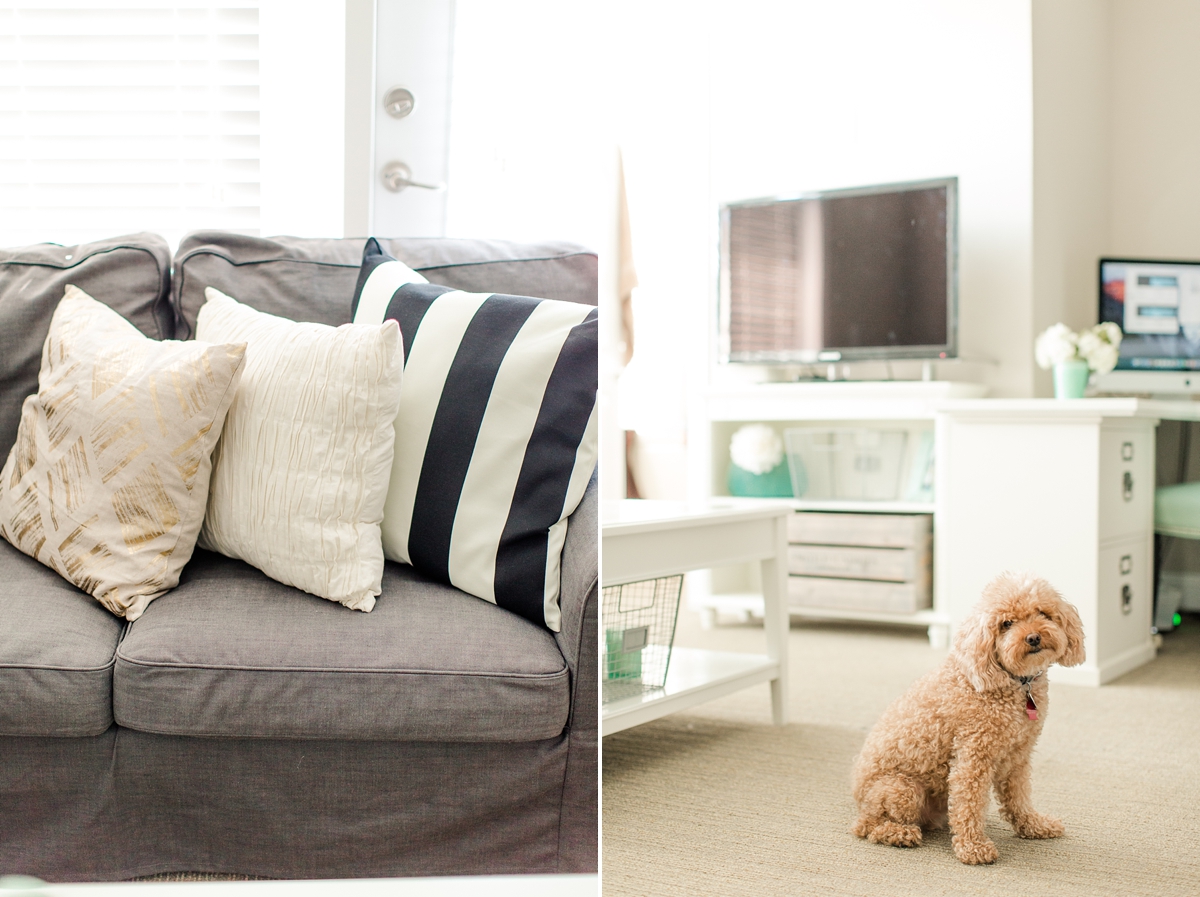 Check out other Home Made for Hosting Posts!
What is apartment life like? Read about our experience HERE!
Why are we in temporary housing? Find out HERE!
Where are we moving?! Find out HERE!