say that we don't REALLY know the symbolism behind everything that takes place at a wedding. Jill and Buddy's pastor took several minutes before the ceremony really began and explained that literally EVERYTHING about a wedding ceremony is biblical.  It's crazy! Absolutely everything about their ceremony pointed toward Christ and not themselves. Marriage isn't  just a great idea that some random person came up with thousands of years ago…. we were created to fall in love and when two people get married, it's an incredibly holy thing! …. It's a BIG DEAL and I think by the end of Buddy and Jill's ceremony….between the tears and amazing music… everyone understood that.  The Pastor announced that Buddy and Jill were officially Mr. & Mrs. Powers and the everyone cheered, clapped, and they even had a few standing ovations!:)
,
After the ceremony, the bridal party hopped into the back of a massive truck that belonged to one of Buddy's groomsmen and we headed to the top of the hill for some portraits…. and I was in heaven. Then we headed to the party and everything looked amazing! I had the privilege to help Jill decorate a little bit and I have to say, I kinda like being the wedding day decorator! She let me have free reign with all of her awesome frames, vases and dishes that she had been collecting for MONTHS! The tent, the food, the lights…. it was like a fairy tale wedding and just to make it a little cooler, let me explain their food.  Like I said in Part One, buddy works for Polyface and so they're really big into Organic food and so their caterer actually started a garden specifically for their wedding once they got engaged! All of their food was organically grown… specifically for their big day. How awesome is that?!!!!! It's AWESOME.  The food was amazing and the whole night was filled with dancing and celebrating such an amazing couple.
.
Buddy and Jill, I love you to death! I hope you get a chance to break away from your tanning and snorkeling to see your PART II!!!!! I can't thank you enough for allowing me to be a part of your day…. I'm so HONORED!!!!! Congratulations!!!
Jill don't hate me for posting a crying shot! This was such a precious moment!!
And all you other brides out there….please take note that the First Look does NOT change the impact of you walking down the aisle! Not at all:)
That picture on the right is the "Holy cow I'm your WIFE!!" face.
You may be wondering how I took this…..well, it was all possible because Michael was driving and my Bug has a sunroof:).
AHHHHHHH!!!!!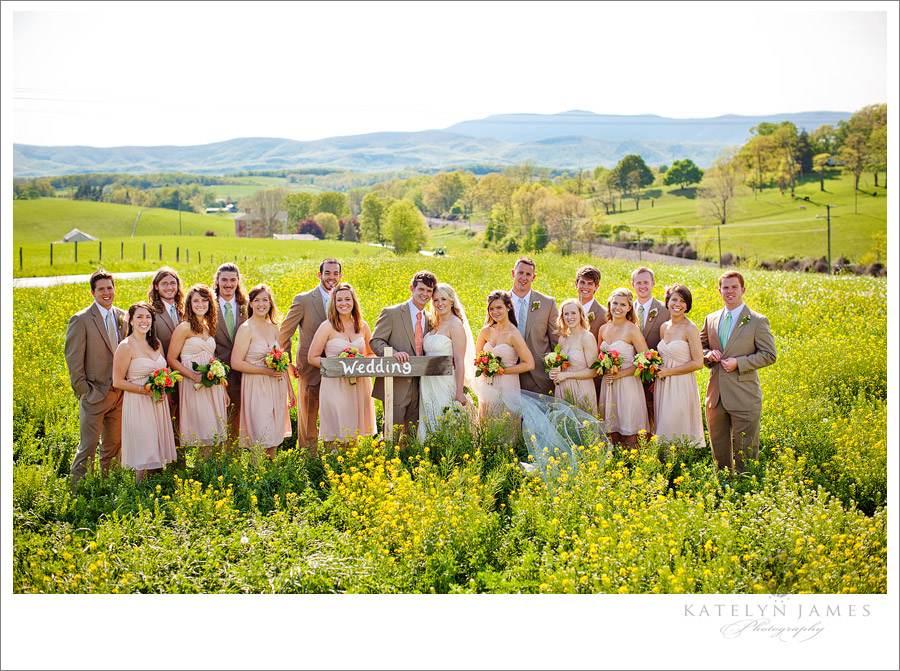 So freaking excited about these!! I feel like I may need to re-do my office canvases!
I love you guys!!!!! You're MARRIED!
Ok… these would be my favorites if they were JUST in a field of yellow flowers… but then you add mountains and BAM! Perfect.
Jill just in case you weren't sure…. Buddy was really excited to marry you:)
Then we went out at around 7:15 for some MORE PORTRAITS in the golden light….. HEAVEN I'm telling you HEAVEN!
Ohh sweet goodnesssssss…..
The Farmer and his beautiful wife.
No words…except thank you LORD for sunlight!!
Pride and Prejudice anyone?
This one makes me happy…..at it makes me even happier when I realize this is in their BACKYARD!
Want to see a photo FILLED with people I love?! Here ya go!!
Perfect ending shot…..woohooo!!!! Hope you're having the time of your lives in Jamaica!!!!!
.
CLICK HERE TO SEE MORE OF BUDDY & JILL'S BEAUTIFUL FARM WEDDING!
.
Caterer: Pork & Spoon Catering
Flowers: Rask Florists
Dress: Paloma Blanca
Venue: Grey Gables
Tent: Central Virginia Rentals